Hamrick Soft-Set Case Packers are a hit with Herbalife.
Mogadore, OH March 26, 2014

Hamrick Manufacturing has built its reputation on providing affordable packaging solutions to various industries across the globe. They have spent years perfecting the art of the drop packer, and have proven its reliability when packing any type of product, including glass, metals, and rigid plastics. When Hamrick approached Herbalife with a solution for a new packaging lines, Hamrick Manufacturing never thought about the possibility of a Soft-Set. Hamrick's Soft-Set Case Packer uses an overhead pneumatic assembly, usually consisting of vacuum cups, gripper bars, or inflatable bladders that secure the product and lower it into the case rather than the drop/catch method usually used on our Case Packers. "Herbalife had currently been running their products on pick & place units, and were concerned about damaging the the product. Drop packing was discussed, but ultimately ruled out," states Jordan Hamrick, Sales and Marketing Manager. "We decided that at the speeds they were running (120/240 bpm), our Soft-Set assembly was a great cost-effective solution," said Jordan. "We worked very closely with Herbalife and their associates throughout the entire process to make sure everyone was on the same page."
Hamrick built its first Soft-Set Case Packer in the 1980s, lowering 24-count glass bottles into cases. "We've always had the capability to soft-set (Hamrick's alternative to pick & place), but we had experienced no troubles drop-packing tough applications," said Phil Hamrick, President. When customers ask for Soft-Set, Hamrick provides it, but they have sold many drop-packers to glass manufacturers, craft breweries, distilleries, and food companies that have successfully run millions of cases. "We feel confident knowing that we can assist our customers with whatever way they feel comfortable packaging," adds the president of Hamrick.
Hamrick Manufacturing & Service, Inc. has been a leader in end-of-line packaging since 1975. As one of the last family owned companies in our industry, they take great pride in providing their customers with quality packaging solutions at an affordable cost; while standing behind it with outstanding customer service and support. Specializing in case & tray packers, Hamrick also manufactures Case Erectors, Case Sealers, Uncasers - Decasers, Lane Dividers, Robotic Palletizing and Integration. They offer a 100% money-back guarantee and a 1-year warranty on all of our machinery. You can contact Hamrick Manufacturing at 800-321-9590 or visit their website at http://www.hamrickmfg.com.
Featured Product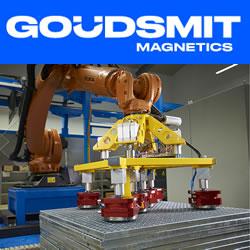 Magnetic robot end-of-arm tooling are suitable for the automated pick-up and positioning of steel or other ferromagnetic objects. They can be switched on and off and have a threaded mounting hole for robots. Magnetic grippers are an efficient alternative for traditional robot grippers. Application in automated production lines and for robots and pick-and-place systems. Magnetic product handling reduces the duration and number of operations. Goudsmit Magnetics is driven by magnetism since 1959. See how it works: https://youtu.be/hcXJ98mXHZE