Seegrid will introduce the most innovative solutions for material handling with its award-winning technology of the flexible automated guided vehicle (AGV), also known as a robotic industrial truck, to the European Union at CeMAT 2014 May 19-23, 2014.
After extensive review and testing, the flexible automated tow tractor is fully compliant with all the requirements for CE marking, the machinery directive, and health and safety regulations for use in industrial applications. According to Mitchell Weiss, Chief Operating Officer for Seegrid, "Compliance with the comprehensive CE requirements assures both the health and safety of European workers, as well as presents American users an additional level of confidence."

CeMAT 2014 will boast a new look with five clearly defined Technology Zones, together with new user focus topics and special events, will give visitors a concentrated overview and an opportunity to showcase products and services under prioritized headings. Offering an extensive range of services to help exhibitors plan display and generate new business leads on the basis of presentation in Hannover, CeMAT will be building on its role as a key driver of the intralogistics industry in 2014. Seegrid will be exhibiting at Hall 27, Booth H12.
Weiss shared why Seegrid has chosen to launch the product in Europe. "European factories have high labor rates and greater requirements for worker ergonomics. As a result they use quite a lot of automation. The truck will support these automated operations by delivering goods reliably and on time, while reducing manned travel time, and risks associated with driving trucks."
Seegrid provides the European market with innovative and flexible automation in vision-guided AGVs. Seegrid flexible AGVs optimize workflow processes by increasing productivity, reducing costs, and creating economic operational advantages. These benefits are possible while delivering a rapid return on investment (ROI), improving facility safety, decreasing employee injuries, and reducing equipment and product damage.
Guided by Seegrid flexible AGVs utilize vision-guided technology for navigation, with no changes to the infrastructure. The innovative technology allows vehicles to be trained and deployed in a warehouse, distribution center, or manufacturing facility quickly and efficiently, eliminating non-value-added repetitive tasks. The vision system provides operators complete route flexibility, as the AGV routing can be re-programmed in a matter of minutes supporting the up-to-date needs of every facility.
About Seegrid
Based in Pittsburgh, PA, Seegrid, the prognosis for continued growth for Seegrid is exceptional, and whether developing robotic vision-guided solutions for manufacturing, warehousing or distribution centers; follow Seegrid Corporation on Twitter at @Seegrid.
http://www.seegrid.com
Featured Product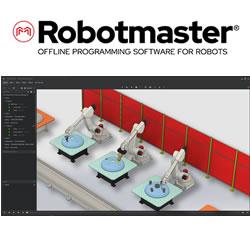 Robotmaster delivers unmatched, full-function off-line programming capability for robots - easy programming of precise robot motion control and quick generation of path trajectories of any size, with minimal programmer intervention. Our strong background in CAD/CAM (Computer Aided Manufacturing) software has enabled us to bring a revolutionary approach to programming industrial robots.