Process & Packaging Machinery
RMGroup have designed & manufactured the world's first 'mobile packaging plant' in an effort to see a dramatic reduction in transportation times & cost.

The systems are made to order & generally include; form fill & seal technology to bag the product, bulk hoppers & robot stacking systems for automated bag stacking
The idea came when a demand arose to package goods at the source, this idea sees many benefits to the customer, as the packaging times decrease, and so does the cost. The system is capable of handling harsh terrain & can arrive on site & begin the bagging process within an hour.
The systems serve European quarry, aggregate, coal & salt suppliers, either on a hire, contract packing or permanent basis.
RMGroup recently invested in designing & manufacturing a brand new 'mobile baling system', which currently serves clients on a hire or contract packing service. The system is capable of baling small bales of straw, miscanthus, hay, silage, animal bedding & more.
More Information
RMGroup Uk Ltd have established themselves as one of the worlds market leaders & innovators within the packaging industry, with more than 20 years experience in the manufacture & maintenance of new & used packaging systems.
RMGroup offer an extensive form fill & seal series, ranging from smaller VFFS machines, designed for smaller products, to the larger VFFS machines designed to package larger products such as coal & compost. These filling machines are usually incorporated into complete systems, which include in hoppers with in feed conveying & automatic bag pallet stacking.
Robot palletising systems are the perfect solution for creating a system that is continuous in form, and matches output requirements. The automatic conveying systems effectively join all the elements together. RMGroup also stock a manual bagging range, suited for those looking to start a packaging line. They are completely modular & machinery can therefore be added at anytime.
As every site, situation &product is often different, RMGroup hold great experience in designing & manufacturing bespoke machinery & systems to match requirements & finances.
Website: http://rmgroupuk.com
Facebook: https://www.facebook.com/rmgroupuk
Twitter: https://twitter.com/rmgroupuk
Google+: https://plus.google.com/+Rmgroupukautomatedpackagingsystems
Featured Product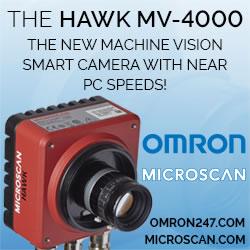 Space, or the lack of it, can be a challenge when placing barcodes or Data Matrix symbols on components. However, readable barcodes are critical to component traceability, time/date stamping, work in progress (WIP) tracking, and recall management. MicroHAWK UHD smart cameras can decode very small and difficult-to-read barcodes, including Data Matrix two-dimensional (2D) symbols and direct part marks (DPM). Users can rely on the MicroHAWK UHD to read symbols with an x-dimension almost invisible to the naked eye!