Sales have reached record levels and are 30% up on the previous year. Expansion plans include moving to larger premises and the recruitment of extra staff.
Warrington, Cheshire March 28, 2014

The 3 phase motor and inverter repair company are based in Warrington, Cheshire and was founded in September 2001.
The electric motor supplier now employs twelve staff with plans to recruit yet more specialist engineers.
Neutronic Technologies have two sides to their business.
One is the supply of new and reconditioned industrial electric motors and the other is the repair and maintenance of various electrical components including servo motors, inverters, PLC's, and HMI'S by brands such as Siemens, Control Techniques and Indramat.
The Cheshire based servo motor repair firm specialise in sourcing obsolete and hard to find electric motors and electronic components.
As well as the supply and retail of all the major brands the Warrington business also sells and services their own brand of high quality electric motors.
"Our range is efficient, reliable and robust. They are already being used by many industries which include mining, aerospace and the food and beverage industry," said Neil Gallant, Managing Director of Neutronic.
The Company has two websites-- one is an eCommerce site where various motors and parts can be purchased online.
The other website details the company's repair and maintenance services.
Neutronic works locally, nationally and internationally with varied clients including the likes of Warburtons, Airbus, and JCB.
"Our company offers a 24/7 service which includes a free collection and delivery service for North West based clients. We also offer twelve months warranty on all of our products and repairs," said Neil.
Neutronic Technologies have expanded their electronics division into larger premises.
The expansion forms part of the company's growth strategy and comes off the back a another record year of sales which has seen an unprecedented 30% increase on the previous year.
"We began to focus on growing our customer base nationally last year and this has really paid off. We aim to be the UK's number one in both sales and repairs of industrial electric motors and their components," said Neil.
Extra staff have been recruited to help with the increased workload.
Regional business development managers are currently being selected.
A new electronics engineer, David Webb, has just joined the company.
He previously worked for Northern industrial and was chosen for his technical expertise and vast knowledge of Siemens control systems.
"I've known about David for some time and he came highly recommended. When his application arrived I was thrilled he had applied to be an engineer with our company," explained Neil.
"I enjoyed my time at Northern Industrial but I felt I needed a fresh challenge and once I saw the job advertised with Neutronic I quickly made the decision to go for it. I've been keeping an eye on their progress and noticed their rapid growth. Once I found out I was successful in my application I couldn't wait to get started" said David.
"I'm delighted that plans to expand the business are progressing so well and that there is definitely a demand for our skills and products on a nationally. 2013 was a good year for all at Neutronic but 2014 is already proving to be even better. Our vision for the future has seen us make some strategic decisions to recruit highly trained service engineers who are available to serve our increasing national customer base" said Mr. Gallant.
The new premises are located right next door to Neutonic's existing building in Warrington.
The new building will enable Neutronic to increase its repair capacity and provide additional space for test rigs.
An additional 4000 square foot is now available for repairs and servicing.
Featured Product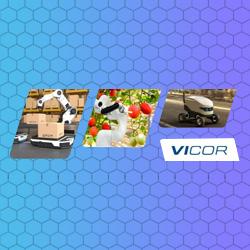 Vicor delivers a vast array of power solutions that support optimal power system designs that enable robots to go further and last longer. Explore a wide selection of articles, case studies, and white papers that explore all that Vicor has to offer for your next robotic design.