In order to heighten safety, functionality, and versatility, Anaheim Automation has introduced a line of conduit boxes as a supplement to their line of AC Variable Frequency Drives.
Anaheim, CA March 28, 2014

Launched earlier this year, Anaheim Automation's line of AC Variable Frequency Drives was a new endeavor contrasting greatly with AC products they had previously carried. Since their release, Anaheim Automation has been taking steps to improve and expand their line so they offer the most comprehensive line of products and accessories possible.
Anaheim Automation's VFDS are ideal for blower, fan, and pump applications. Their current stock of AC Drives however, are equipped with fully exposed terminals, which could be potentially unsafe if used in the wrong application, or if used improperly. The new line of accessories released to supplement these VFDs is a line of conduit boxes (http://www.anaheimautomation.com/products/accessories/ac-accessories.php?cID=544&pt=t&tID=1165), which offer a great solution for making these "open-type" VFDs a bit safer. In placing the conduit box kit over the exposed terminals, the user can then achieve IP20, NEMA 1 protection, and avoid any potential shock or mishap.
Anaheim Automation has additional expansion plans in the works for their variable frequency drives, and is looking forward to the progression of this new product line as it continues to expand it's offering, and ultimately grow in success.
About Anaheim Automation:
Anaheim Automation, Inc. is a manufacturer and distributor of motion control products with over 45 years of experience. Combining enthusiasm, dedication, and innovation, Anaheim Automation strives to supply thousands of customers worldwide with the quality components they require to make their application succeed. Anaheim Automation surpasses competitors with their Stepper product offering, providing one of the largest in the industry. Vast lines of Brushless and Brush DC, Servo and AC motors, controllers and drivers are also offered at competitive prices. High-precision Gearboxes, Tables, Linear Guides, and more provide increased performance and efficiency. For more information about Anaheim Automation and their products, call 714-992-6990 or visit http://www.anaheimautomation.com.
Featured Product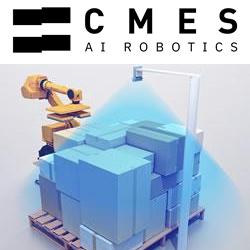 Powered by AI, CMES Robotics enables 3D vision for factory robots. CMES AI vision software enables robots to recognize unstructured, flexible, or deformed objects, pick them up, and loading and unloading. CMES Vision software has been deployed worldwide for random palletization and depalletization along with void filling applications. CMES Robotics automates your warehouse, logistics, and supply chain. For more information, please visit: cmesrobotics.com or email info@cmesrobotics.com.