Technology Integrates into the Millions of Standard Security Camera Already Deployed Globally
Las Vegas April 02, 2014

Extreme Reality announced that it will offer demonstrations today through Friday of its human authentication and anomalous behavior detection technology at the International Security Conference & Exposition (ISC West) 2014 in Las Vegas this week. Extreme Reality's security solution which is retrofitted into already available 2D security cameras, works indoors as well as in full daylight, is not limited to close proximity, and performs seamless detection while a person is walking.
The first demonstration will show how an individual's biometric profile can be derived from the motion of their body. It will use a standard 2D camera, similar to the millions of surveillance cameras deployed globally, to capture the movement of visitors at Extreme Reality's booth #33047. Visitors are welcome to test the system live and receive a short video clip of their skeleton motion capture.
The second demonstration will focus on loss prevention, showcasing Extreme Reality's technology that can analyze human body motions from an aerial point-of-view, similar to common security surveillance camera locations, to trigger alerts for anomalous, suspicious or irregular behavior. It will highlight a use case of loss prevention in casinos (a slot machine and a pachinko machine), where human body movement outside of the normal and pre-defined ways people interact with the machines will be flagged, and in retails stores.
Extreme Reality has developed the only software-based technology to provide full-body 3D motion analysis through standard cameras. With 17 patents, this non-invasive technology extracts 3D motion from 2D cameras, and it has only recently been made available to security companies, OEMs and integrators.
ISC West is the leading U.S. exhibition and conference serving the electronic physical security industry. It will take place at the Sands Expo & Convention Center in Las Vegas from April 2-4, 2014. Extreme Reality will be located in the exposition hall, booth #33047.
About Extreme Reality
Extreme Reality enables a future where people interact with computing devices through the motion of their body. It is the only company to provide full-body, software-based, 3D motion analysis and control to any computing device or operating system via a standard camera. Offered as a software development kit (SDK) and with 17 patents granted worldwide, the company's Extreme Motion product enables developers to create a wide range of experiences (applications, games, security solutions and more) that pioneer Natural User Interfaces (NUI) while breaking the physical barriers of current hardware-based technologies. Extreme Reality was founded in 2005 and is based in Herzelia, Israel.
Featured Product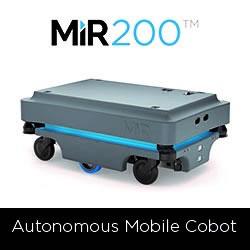 MiR200 is a safe, cost-effective mobile robot that automates your internal transportation. The robot optimizes workflows, freeing staff resources so you can increase productivity and reduce costs. MiR200 safely maneuvers around people and obstacles, through doorways and in and out of lifts. You can download CAD files of the building directly to the robot, or program it with the simple, web-based interface that requires no prior programming experience. With its fast implementation, the robots offers a fast ROI, with payback in as little as a year.