Slip rings are an important part of robots to be used for the automation of the manufacturing process. Now, China based Moflon International has introduced slip rings that can be used in robots to increase the efficiency of industries.
ShenZhen, China April 02, 2014

The increasing labor costs at the global level has emerged as a challenge for many industries to continue their manufacturing process, keeping their operational costs at the manageable level. This is the reason why industries are focusing on automating their manufacturing process by incorporating robots. Moflon, China based industrial application developer, is now introducing their slip rings that can be used in robots to help enhance the manufacturing process of different industries.
The spokesperson of the company reveals that robot applications are more important in labor intensive industries. "It not only helps in increasing the manufacturing efficiency, but it also brings down the operational costs," he says. It has been seen that the robot applications has increased the production rate by over 100% in the last three years. This fact establishes the importance of robotic applications in the manufacturing process and it contributes towards the rising demand of the slip rings. Moflon delivers high quality slip rings to be used in robots and plays a significant role of supplying this important part for the growth of the industries.
A slip ring is used in a robot to transfer signal or data from one module to another. The automatic system is controlled by servo system, driver and encoder. This system control module requires servo slip ring, and which Moflon can supply to the industries in the desired quantity at any time. The spokesperson reveals that they always maintain a ready stock of slip rings to help meet the industry requirements. He states, "In the recent years, the demand for slip rings has increased by almost 150%, and we have revamped our manufacturing capabilities as well to meet the industry demands. Moreover, we now employ improved testing and quality control process to make sure that only the best quality products are supplied to the industries."
According to them, the encoder slip ring they produce has been highly rated for its efficient data transfer capability. The strict quality control process that they follow allows them to deliver slip rings that are the best in quality. Thus, Moflon's slip rings emerge as the practical solution to help automate the manufacturing process of the industries. To learn more about their slip rings, one may follow the link http://www.moflon.com/mz.html.
About Moflon Company
Moflon Company was founded in the USA in 1987. The company has been successfully developing commercial and industrial applications for over 30 years for different industries. They have also been catering to the aerospace and military sectors for over 20 years now. All these products have been developed for high performance environments and help meet flexible production related requirements of the companies.
Featured Product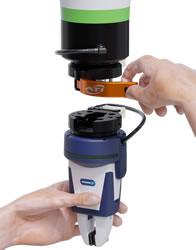 Simpler, stronger, and more precise. ATI Industrial Automation has developed a series of Manual Tool Changers that provides a cost-effective solution for quickly changing tools by hand. They feature a unique design that combines high strength, excellent repeatability, and a patent-pending screw-cam locking mechanism with multiple fail-safe features, which resists vibration and prevents loosening. These robust and compact Manual Tool Changers can handle payloads up to 80 pounds (36 kg) and pass pneumatics and electrical signals.