UNL's Lied Center for Performing Arts hosts a unique 3-day residency this week when UNL dance students perform choreography with flying robots from UNL's NIMBUS Lab. The Extreme Action Heroes of STREB, world famous Brooklyn-based dance company, travel to Nebraska to lend their expertise.
In celebration of National Robotics Week (April 5-13), Nebraska's Home for the Arts, the Lied Center for Performing Arts will host a very special collaboration among UNL students from the Colleges of Dance, Computer Science & Engineering, and Architecture under the direction of world renowned Brooklyn-based dance company STREB.

For the past several months, a talented group of UNL students from the Colleges of Dance, Computer Science & Engineering, and Architecture have been preparing for the arrival of Elizabeth Streb and her company of dancers in Lincoln, Neb. Since January, the students have been collaborating to create an innovative exhibition combining architectural designs created by UNL students, choreography developed by UNL dancers featuring found objects and props, and robots from the University of Nebraska-Lincoln's NIMBUS Lab.
Starting April 8, participating students will have the opportunity to connect with STREB company dancers in person, share their work, and continue to develop the project under the expert guidance of STREB's Extreme Action Heroes and Elizabeth Streb's groundbreaking perspectives on the theory of action. Together, STREB and UNL students will explore the intersection of technology, science, design and movement over an extensive three-day residency centering on choreography featuring UNL dancers and flying robots interacting on stage.
"The Lied Center and the University of Nebraska make every effort to connect our students with the many artistic masters that visit Lincoln," said Stephan. "We were thrilled that STREB was able to devote so much time to our students. This is going to be such a unique and unforgettable experience for all of the students involved."
Prior to STREB's main stage performance at the Lied Center on April 11, students involved in the residency will give a single public performance of the pieces developed through the collaboration.
"Part of my delight that STREB is coming for a residency with our dancers is the creative boost we are getting," said Susan Levine Ourada, Associate Professor and Area Head of Dance at UNL. "We're making dance duets with large props and also collaborating with the computer engineers, both as homages to STREB and her work. These investigations push everyone's creative edges and it's gorgeous to watch the processes unfold. We can't wait to see what Ms. STREB has to say about our efforts," said Levine Ourada.
This presentation is made possible in part with generous support from Liberty First Credit Union and Nebraska Lottery.
This presentation of STREB was made possible by the MetLife Community Connections Fund of the New England Foundation for the Arts' National Dance Project. Major support for NDP is also provided by the Doris Duke Charitable Foundation and The Andrew W. Mellon Foundation.
This presentation is supported in part by an award from the National Endowment for the Arts.
Residency activities are funded, in part, by the Hixson-Lied College of Fine and Performing Arts and the Hixson-Lied endowment.
About the Lied Center for Performing Arts
The Lied Center for Performing Arts is a state-of-the-art performing arts facility. The Lied Center, opened in 1990, is Nebraska's "Home for the Arts." The facility offers major regional, national and international events designed to attract, entertain and inspire a statewide audience. The Lied Center and its programs are made possible through the generous 2013/2014 season support of Christina Hixson and the Lied Foundation Trust, Friends of Lied, Ameritas and Union Bank. The Nebraska Arts Council, a state agency, has supported Lied Center programs through its matching grants program funded by the Nebraska Legislature; the National Endowment for the Arts, a federal agency; and the Nebraska Cultural Endowment. For more information visit www.LiedCenter.org.
Featured Product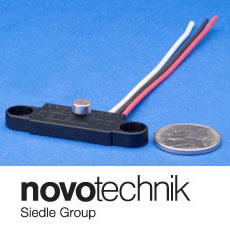 Vert-X 05E Series of dual angle/speed sensors. The series features easy mounting in small and narrow spaces with a 5 mm body depth and mounting flanges with metal inserts. The sensors make measurements only 6 mm from edge of product for close-to-wall measurement applications. Vert-X 05E Series sensors measure angles from 0 to 360°, rotational speed and direction with repeatability to 0.1°.