Former Willow Garage CEO to Lead Service Robotics Company
SUNNYVALE, Calif.-Savioke today announced that it has raised $2 million in seed financing from lead investor Morado Venture Partners, along with AME Cloud Ventures, Google Ventures, and individual investors. Savioke will use the funding to further develop its inaugural robot, focusing on the services industry.

CEO Steve Cousins and the team at Savioke established the company in 2013. Cousins was previously president and CEO of the personal robotics pioneer Willow Garage, where he oversaw the creation of the robot operating system (ROS), the PR2 robot, and the open source TurtleBot. In the last three years of his tenure at Willow Garage, Cousins also managed the successful spin-off of eight different robotics companies.
"We are passionate about delivering easy-to-use yet sophisticated robots that can help people. Our goal is to improve the lives of people by developing and deploying robotic technology in service environments."
Steve Cousins, CEO of Savioke
"There's a unique entrepreneurial excitement surrounding Silicon Valley's robotics industry today, and much of that is due to the efforts of the team at Savioke. As the market for service robots continues to grow, AME is pleased to offer our support to Savioke."
Jerry Yang, Founding Partner at AME Cloud Ventures
"As the lines continue to blur between industrial and personal robotics industries, Google Ventures is thrilled to be working with an exceptional group of people at Savioke. Steve and his team already have had a lot to do with moving the robotics industry forward. The next act promises to be even more revolutionary."
Andy Wheeler, General Partner at Google Ventures
"In Savioke, we see an exceptional team focused on a substantial problem. They have a unique vision for bringing autonomous service robots to market, and the technology chops and proven track record to build an outstanding robot."
Ash Patel, Managing Director at Morado Venture Partners
The Savioke team includes a wide variety of experts in the field of robotics, business, and design, including robot hardware and software. The company's robot will utilize and build upon ROS, the open source robot operating system.
Savioke plans to begin customer trials later this year.
About Savioke
Savioke (pronounced "savvy oak") is creating autonomous robots for the services industry. Savioke aims to improve the lives of people by developing and deploying robotic technology in human environments. Savioke was founded in 2013 and is headquartered in Sunnyvale, CA. For more information, please visit http://www.savioke.com, or follow the company @Savioke
Featured Product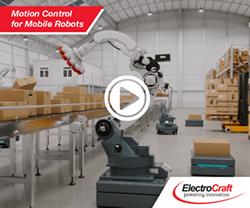 ElectroCraft is showcasing its award-winning mobile robot technology including their powerful and compact wheel drives, high-torque-density brushless DC motors, precision linear actuators as well as servo motor drive technology at a variety of conferences and tradeshows including the Boston Robotics Summit. Robotics Summit is the premier symposium for the sharing of ideas, technology, and market developments for robotic technologies across industries. Beyond a showcase and pitch of product, ElectroCraft is eager to participate in the collaborative discussion of challenges and opportunities that will shape the near and long-term robotic marketplace.