Colorado Springs-based 3 & 5 Axis CNC router designer & manufacturer, Diversified Machine Systems (DMS) announces strategic international partner Fagor Automation's new ProGTL3 Programming Language on the Fagor 8065 CNC Control for making complex shapes quickly & easily.
Colorado Springs, CO April 10, 2014

Diversified Machine Systems, a leading US-based 3 & 5 axis CNC machine center designer and manufacturer, announces Fagor Automation's new ProGTL3 programming language for use on their Fagor 8065 CNC, an optional feature on many of DMS' 5 Axis CNC Machine Centers.
The ProGTL3 was designed to extend shop floor programming capabilities, allowing for complex profiles to now be programmed in a simple format on the shop floor right on the CNC control, without needing expensive third-party software solutions.
Fagor CNC controls have traditionally provided 3 methods of part programming:
1. ISO G-code language as a Universal Standard
2. Parametric programming for creating custom screens, editors, cycles or subroutines
3. Conversational programming utilizing hot keys coupled with intuitive fill-in-the-blank graphic assist screens
Based on orientated geometry model, the ProGTL3 (Professional Geometric & Technological Language - Level 3) allows uses to resolve any flat profile with no extra mathematical or trigonometric calculations, nor the need for third-party CAD/CAM software.
The language offers 5 G-Codes (G10, G11, G13, G20, G21) to describe any type of geometry. Any geometry can be defined by just using these codes, but ProGTL3 also includes functions for faster and easier programming of complex shapes. ISO programmers can now combine conventional functions of ISO programming language with ProGTL3 to implement a flat profile without having to use complex trigonometric calculations to calculate undefined points.
During the programming process, the user can view the programmed shape of the geometry being created in real time. This, plus the ability to program elements like points, straight lines, arcs, corner rounding (radius blend) and other basic features as well as utilize geometry that does not originally belong to the final part makes it easier to create complex shapes quickly and easily. In program execution, the Advanced Tool Inspection Mode allows for numerous in-cycle program jumps, edits, searches and tool offset modifications just by pressing the Cycle Stop Key.
Fagor Automation is a worldwide Manufacturer of CNC Systems, Servo Motors & Drives, Feedback Systems & DRO Systems and is a strategic partner with Diversified Machine Systems (DMS). DMS delivers custom 3 axis and 5 axis CNC routers that include Fagor CNC Controls as a standard offering on most machines.
DMS was honored with the 2013 Regional Business Excellence in Manufacturing Award in November 2013, and recently awarded as a 2014 Colorado Companies to Watch Finalist.
Learn more about DMS at DMSCNCRouters.com.
About Diversified Machine Systems
Diversified Machine Systems (DMS) is a leading designer and manufacturer of 3 & 5 Axis CNC routers & custom machining centers, with headquarters in Colorado Springs, CO. With more than 30 years of innovation and industry experience as an Original Equipment Manufacturer, DMS' line of CNC routers and machining centers are routinely used on materials such as wood, composites, aluminum, steel, plastics, and foams. Renowned for quality and precision, our advanced machining centers are engineered to increase efficiency and productivity, while maintaining the quality and precision our clients have come to expect from DMS.
Be sure to connect with DMS socially for CNC news and tips:
Twitter.com/DMSCNCRouters
YouTube.com/DMSCNCRouters
Instagram.com/DMSCNCRouters
Facebook.com/DMSCNCRoutersandMachineCenters
Plus.Google.com/+DMSCNCRoutersandMachineCenters
Featured Product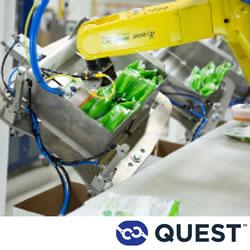 Quest is a leading manufacturer of industrial automation equipment focusing on robotics and vision-guidance. With expertise in the food, beverage, and dairy, Quest optimizes floor space for customers experiencing growing demand and helps improve their overall production line flexibility and efficiency. Quest offers application-specific software on their robotic products, including pick and place, case packing, and palletizing systems to simplify system setup and streamline configurability. Quest is a product brand of ProMach, a global leader in packaging line solutions.