European manufacturers and distributors will find an affordable automation solution to streamline processes while remaining efficient and productive with Seegrid, maker of automated guided vehicles (AGVs). Dori Kozak, Seegrid Marketing Manager discussed the past challenges and future opportunities for European manufacturers and distributors.
Kozak noted, "Now in 2014 there is an opportunity to see an automation solution in your own facility in advance of a purchase that will address this challenge. Seegrid's Try Before You Buy program is the introduction to what has been an answer in the U.S. and is now a solution available for Europe: Seegrid flexible, vision-guided AGVs, otherwise known as robotic industrial trucks."

Seegrid is exhibiting at CeMat 2014 to meet global demand of robotic industrial trucks. Seegrid will be exhibiting at Hall 27, Booth H12. CeMAT 2014 runs from May 19 to May 23, 2014, in Hannover, Germany.
DAccording to Kozak, "What better way for European manufacturing and distribution facilities to get on the right track than by jumping on an offer such as Seegrid's Try Before You Buy program. No, it is not too good to be true, because the program is already available to manufacturing, warehousing, and distribution facilities in the U.S. If you have not heard about Seegrid's Try Before You Buy program, then 2014 is your time to see what you have been missing."
CeMAT intralogistics trade fair will feature a significant increase in the number of exhibitors from abroad. The fair is expected to attract more than 1,000 exhibitors from 40 nations and occupy more than 1,291,600 square feet of exhibition space. The fair is expected to attract more than 1,000 exhibitors from 40 nations and occupy more than 1,291,600 square feet of exhibition space.
About Seegrid
Guided by Seegrid flexible AGVs utilize vision-guided technology for navigation, with no changes to the infrastructure. The innovative technology allows vehicles to be trained and deployed in a warehouse, distribution center, or manufacturing facility quickly and efficiently, eliminating non-value-added repetitive tasks. The vision system provides operators complete route flexibility, as the AGV routing can be re-programmed in a matter of minutes supporting the up-to-date needs of every facility.
Based in Pittsburgh, PA, Seegrid, the prognosis for continued growth for Seegrid is exceptional, and whether developing robotic vision-guided solutions for manufacturing, warehousing or distribution centers, Seegrid is part of the reform for the materials handling industry for Europe. Follow Seegrid Corporation on Twitter at @Seegrid.
http://www.seegrid.com/
Featured Product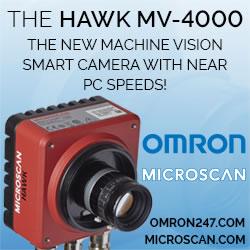 Awe-inspiring power and superior flexibility is sheathed within the contoured casing of the HAWK MV-4000. This smart camera builds upon the previous generation by quadrupling processing power and achieving real-time trigger response using an FPGA. Its state-of-the-art algorithms make it an excellent tool for any industry, whether the requirement be code reading, code verification, inspection, guidance, gauging or a combination of all four.