Small, lightweight Gumstix systems have been the top choice of MAV enthusiasts, robotics educators and enterprise users at universities and companies around the world since 2004.
REDWOOD CITY, Calif., April 15, 2014 -- Ten years after placing its first miniature system on a micro-helicopter, Gumstix today unveiled the AeroCore for DuoVero, a new MAV control system that puts a complete installation of Linux in the air.

Gumstix AeroCore includes a comprehensive list of features, including:
* Multiple control options for up to eight motors
*A 9-axis accelerometer/gyroscope and magnetometer, barometer and breakouts for other sensors
*Optional GPS/GNSS
*USB On-The-Go for interfacing with USB peripherals like cameras
*A direct interface between an onboard DuoVero and ARM Cortex-M4 microcontroller
*DuoVero networking options over WiFi (including access point modes) and Bluetooth
*External pins and communication channels for standard interfaces (SPI, I2C, UART, GPIO)
The AeroCore runs the NuttX real-time OS on a ARM Cortex-M4 microcontroller, with space on board for a supervisor DuoVero computer. This two-tier architecture provides a hard RTOS for machine controls and sensors, and high-level Linux programs to manage mission intelligence. Combined with a wide range of powerful open-source projects like ROS, the Robot Operating System, QGroundControl and MAVLink, AeroCore gives MAV experimenters extensive opportunities.
Small, lightweight Gumstix systems have been the top choice of MAV enthusiasts, robotics educators and enterprise users at universities and companies around the world since 2004. The in-flight Linux implementation made possible advanced flight control algorithms for creating MAV swarms. Advanced graphics processors power visual-processing flight software-- for example, optical-flow analysis and target acquisition algorithms-- available amongst other powerful open-source tools for robotics development.
"Gumstix' COMs have set the standard for lightweight, in-flight Linux computers on MAVs for the last 10 years," said W. Gordon Kruberg, M.D., president and CEO of Gumstix, Inc. "We have been able to take everything our customers have learned using our COMs in the field and put it all into a low cost, high performance system for controlling MAVs. Because the AeroCore was designed from the ground up to be compatible with the standard suite of existing software, we've made it easy for developers to get off the ground quickly."
"The AeroCore builds on popular open-source autopilots by leveraging the power of the DuoVero COM with minimal power and weight costs," said Andrew C. Smith, Ph.D. Candidate in Stanford University's Aerospace Robotics Lab. "Proven stability and the ability to incorporate additional processing capabilities in a small package open the door for researchers and advanced users to implement complex planning and control applications not possible on currently available systems."
The AeroCore board is fully compatible with the PX4 open-hardware project's suite of software, including MAVLink for autopilot communications and QGroundControl as its ground station. To see the AeroCore in flight, view the demonstration video on Gumstix' blog. The Gumstix AeroCore is available for $199 with GPS or $149 without GPS at store.gumstix.com.
About Gumstix, Inc.
Since developing the first Linux®-based computer-on-module in 2003, Gumstix has grown to become the premier provider of Linux®-based COMs and expansion boards, with over 15,000 diverse customers in more than 40 countries. Gumstix' commitment to providing the best, standard platform for ubiquitous, intelligent devices with flexible and open-source design results in less internal development time and faster time-to-market for its customers' products. For more information, visit www.gumstix.com.
Featured Product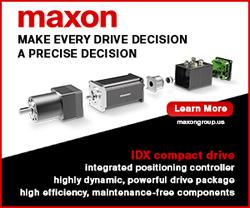 Discover the world of drive technology from a leading worldwide supplier of innovative customized drives. - Manufacturer of brushed and brushless DC motors, gearheads and motion controllers - Custom drive systems, quantities as low as a single unit - Certified for aerospace and medical applications