Augsburg-based robot and system builder KUKA is focusing on human-robot collaboration, i.e. safe cooperation between humans and robots, at AUTOMATICA 2014 in June. At the press conference in April, the company presented the road to the future in automation.
Human and robot ideally complement one another

Industrial production is on the threshold of a new revolution. The new framework conditions for the industry of tomorrow are represented by the concept better known as "Industry 4.0": volatile markets, a high diversity of variants and shorter product life-cycles mean that production must adapt quickly to new framework conditions in the future, i.e. it must be versatile. In many cases, this means a move away from rigid full automation to flexible work-sharing between the human and the robot. "Using the robot as a production assistant makes production more versatile than ever before and enables entirely new concepts in manufacturing," explains Manfred Gundel, CEO of KUKA Roboter GmbH. This is opening up new approaches to robot-based automation alongside "conventional" industrial robots.
Industry 4.0 requires a new generation of robotics
The robot constitutes an important basis for new manufacturing concepts of this type, as Dr. Albrecht Hoene, Project Manager for the lightweight robot at KUKA Laboratories GmbH, stressed: "In order for the robot to be able to work safely with humans as a production assistant, a whole new robot generation is required: the machines must be sensitive and compliant, just like the KUKA LBR iiwa lightweight robot." With seven axes, the LBR iiwa is based on the human arm and can be operated in position and compliance control. This, combined with the integrated sensor systems, endows the lightweight robot with programmable sensitivity. Its high-performance collision detection function and integrated joint torque sensors in all axes make the LBR iiwa an ideal solution for delicate joining processes and allow the use of simple tools. The sensitivity of the LBR iiwa has opened up a new chapter in human-robot collaboration. It acts as the "third hand" of the operator and can work directly with humans, without the need for a safety fence.
Integrated HRC-compatible production concept in focus
Fenceless applications open up entirely new possibilities in a modern factory setting, but also entail new framework conditions. Frank Klingemann, CEO of KUKA Systems GmbH, clearly stated at the press conference that a suitable robot alone is not sufficient for safe human-robot collaboration (HRC). "Our objective is to draw up an integrated HRC-compatible production concept. HRC engineering and complete HRC-compatible solutions will influence factory design and the production of the future." That is why, among other other tasks, KUKA Systems is building up a comprehensive database of components and peripheral equipment that are suitable for human-robot cooperation. In the future, calculations based on these data should make it possible to design applications that are safe, cost-effective and HRC-compatible - thus paving the way for the versatile Factory 4.0.
KUKA at AUTOMATICA 2014
At AUTOMATICA, being held in Munich from 3 to 6 June, KUKA has a booth in Hall A4, covering an area of around 800 m2, where the company is demonstrating its expertise in human-robot collaboration - with exhibits taken from a variety of genuine practical applications. KUKA will be covering the whole range from industrial robotics to service robotics. In addition to the main booth, KUKA will also be using the 6th international trade fair for automation and mechatronics to showcase further product features, such as the KUKA moiros mobile concept study. In the special exhibition dedicated to professional service robotics in Hall A4, the Augsburg-based robot and system builder will also be presenting the KUKA Innovation Award, a science award designed to boost innovation in the field of mobile manipulation and optimize the preparation of technology transfer from the world of science and research to the world of industry. Furthermore, KUKA robots will also be in action at the booths of numerous system and technology partners of the Bavarian high-tech company.
http://www.kuka-robotics.com/
Featured Product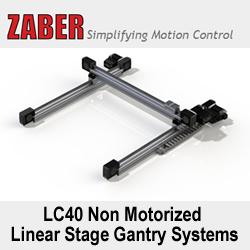 A Zaber gantry kit comes with everything you need to build a customized XY gantry system or XYZ gantry system. These gantry systems feature coordinated multi-axis motion, plug-and-play operation, easy integration with end-effector options, and built-in IO and E-Stop capabilities. An intuitive ASCII interface allows the user to easily communicate with the gantry systems using our free software, either Zaber Motion Library with APIs for several popular languages or Zaber Console. Third party terminal programs that can communicate over a serial port can also be used.