North America's largest vision and imaging trade show and conference
ANN ARBOR, Mich., April 14, 2014 -- The Vision Show, North America's largest vision and imaging trade show and conference, will be held in Boston, Massachusetts at the Hynes Convention Center, April 15-17, 2014. AIA, the world's largest trade association promoting vision and imaging industries, founded The Vision Show in 1996.

The Vision Show provides vision users, system integrators, machine builders and OEMs with access to the latest vision and imaging technologies and applications from over 100 leading manufacturers, distributors and suppliers from around the world. Vision is used for tasks such as inspection, traceability, and process control in a broad range of industries including automotive, biotech, consumer goods, electronics, food and beverage, medical devices, medical imaging, pharmaceuticals, semiconductors, surveillance, solar and alternative energy.
"We're looking forward to a very successful show this year. The show is already close to a sell-out and early indications show a great response from attendees with both show and conference registrations coming in ahead of projections," said Dana Whalls, Vice President of AIA. "Vision and imaging are key technologies used by a vast array of industries to become more competitive across the globe. They can find all the components, systems and partners they need in Boston - all in one place."
The accompanying conference features in-depth tutorials and sessions on topics such as the fundamentals of machine vision, lighting and optics, camera and image sensor technology, 3-D vision techniques, designing vision systems, advances in color vision, metrology and 2-D calibration techniques, non-visible imaging and more. New this year the conference is offering a track of courses specifically geared towards the life sciences industry. AIA's Certified Vision Professional program classes and exams (both CVP-Basic and CVP-Advanced) will also be available at the conference.
The trade show offers free admission, and the conference offers affordable, flexible registration options. Up-to-date information about The Vision Show can be found at www.visiononline.org.
On Tuesday, April 15th at 9:00 am, the keynote address, High-end Surveillance and Security - How Technology is Helping Protect Us will be delivered by Dennis Treece, Colonel, US Army (Retired) & Former CSO and Director, Department of Corporate Security and Emergency Preparedness. Security and high-end surveillance technologies, although completely different, are used together to help keep us safe. Typical security cameras and even cell phone images can be mined using software to help law enforcement solve crimes. High-end surveillance technologies provide more information at higher resolutions and therefore are the choice for border patrol, port security, airport monitoring, asset protection, law enforcement and other surveillance operations across the globe. This presentation will touch on the technologies used to capture the Boston Marathon bombers and will specifically discuss cutting-edge high -end surveillance technologies where they are used and where future opportunities may be.
On Wednesday, April 16th, AIA's sister trade group, the Robotics Industries Association (RIA), will host a full day workshop on Collaborative Robots. This first-ever RIA Collaborative Robots Workshop will examine all of the key issues in a fast-paced one day event. Click here for an agenda and how to register.
On Wednesday evening, all The Vision Show attendees are invited to join us for a special networking party at Boston Beer Works in Boston's Historic North End. Connect with other attendees in a relaxed environment while enjoying a great appetizer buffet, drinks, pool tables, and private bar and dining room area. Register for this event at The Vision Show homepage.
About AIA
Founded in 1984 to advance the understanding and use of imaging and vision technologies and to drive global expansion and growth through education and promotion, AIA now represents over 320 vision suppliers, system integrators, users, researchers, and consulting firms from 32 countries. AIA is best known for The Vision Show (April 15-17, 2014 in Boston); vision and imaging standards such as GigE Vision®, Camera Link®, Camera Link HS™ and USB3 Vision™; the Automate Show (March 23-26, 2015 in Chicago); the annual AIA Business Conference (January 22-24, 2014 in Orlando); the Certified Vision Professional program; AIA Certified System Integrator company program; and Vision Online (www.visiononline.org), the world's leading online resource for vision information.
About Association for Advancing Automation (A3)
The Association for Advancing Automation is the global advocate for the benefits of automating. A3 promotes automation technologies and ideas that transform the way business is done. A3 is the umbrella group for Robotic Industries Association (RIA), AIA - Advancing Vision + Imaging, and Motion Control Association (MCA). RIA, AIA, and MCA combined represent 750 automation manufacturers, component suppliers, system integrators, end users, research groups and consulting firms from throughout the world that drive automation forward.
For more information, please visit our websites: A3 - www.A3automate.org. RIA - www.robotics.org. AIA - www.visiononline.org. MCA - www.motioncontrolonline.org.
Featured Product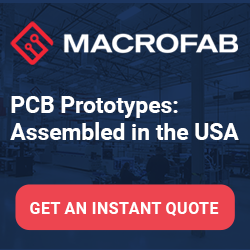 At MacroFab, we understand the challenges engineers face when searching for the perfect partner to bring their visions to life. Traditional overseas prototype factories may offer low-cost solutions but often have hidden compromises. Say goodbye to subpar quality, communication barriers, and frustrating delays - choose MacroFab for a stress-free, reliable, and professional prototyping experience.