Prestigious industry event also known as the "Oscars of Manufacturing"
CLEVELAND, April 16, 2014 -- Hundreds of senior-level manufacturers will gather May 5-7 in Milwaukee at Penton's IndustryWeek Best Plants Conference. Attendees will experience some of Wisconsin's finest manufacturing facilities on plant tours, hear from notable Milwaukee CEOs during keynotes, and participate in networking events and educational sessions. For more than 20 years, the IW Best Plants Conference and the IW Best Plants awards program - what the New York Times calls the "Oscars of Manufacturing" - has served as an iconic tool to help senior operations and management personnel run their manufacturing plants better, and to help them increase profitability.

This year's conference theme is "Get Your Motor Running," and is designed to motivate manufacturers to improve their operations. The conference features a tour of the Harley-Davidson Powertrain Operations plant in Menomonee Falls, Wisconsin and a special event party at the Harley-Davidson Museum in downtown Milwaukee. Other plant tours offer attendees the opportunity to benchmark against other world-class systems at companies including MillerCoors, GE Healthcare, John Deere, Snap-On Tools, Quad/Graphics, Briggs & Stratton, Case New Holland and more.
From the plant floor to the corporate offices, each attendee can choose from 36 breakout sessions across 6 tracks. Sessions focus on key areas including continuous improvement fundamentals, advanced continuous improvement, workforce development, supply chain strategies, leadership and innovation, and technology strategies. Industry experts and leadership from top manufacturing companies around the globe curate each educational hour.
This year's conference features two company leaders from local Milwaukee companies as keynote speakers. Nicholas Pinchuk, Chairman & CEO, Snap-On Incorporated, will kick off the conference while Ted Doheny, the newly minted President & CEO of Joy Global Inc. brings the conference to conclusion. Other featured keynote speakers include:
Tim Platt, Vice President of Information Systems / Information Security from Toyota Motor Engineering & Manufacturing North America;
Rodney Brooks, Founder, Chairman & CTO from Rethink Robotics; and
Carlos Cardoso, Chairman, President & CEO from Kennametal Inc.
Registration for the 2014 IndustryWeek Best Plants Conference is now open. Attendees can also see Bubba Blackwell, American Daredevil and a world record holder Harley-Davidson motorcycle jumper. For more information or to register for this event, please visit www.iwbestplants.com.
About IndustryWeek
IndustryWeek covers what matters most in leading a successful manufacturing business, identifying and sharing the trends, strategies, technologies and best practices that help manufacturers become more innovative, competitive and profitable. The only media brand with intensive, dedicated coverage of the nearly $2 trillion U.S. manufacturing industry and the supply chains around the globe that feed it, IW has an over 100-year history of honoring leaders in manufacturing operations through distinguished programs such as the IW Best Plants, the IW 50 Best U.S. Manufacturers, the IW US 500, the IW 1000, and the IW Manufacturing Technology Leader of the Year. For more information, please visit www.industryweek.com, or follow at Twitter and Facebook.
About Penton
Penton is a leading professional information services company that engages and informs millions of professionals every day, helping them grow and solve their most critical business challenges. As a provider of critical workflow solutions and insightful content, marketing services and networking, Penton helps businesses do business in five core growth markets: agriculture, transportation, natural products/food, infrastructure, and industrial design/manufacturing.
Penton is a growth company with a track-record of strong performance and success and is backed by its co-owners: MidOcean Partners and U.S. Equity Partners II, an investment fund sponsored by Wasserstein & Co., LP.
For additional information on the company and its businesses, visit www.penton.com.
Featured Product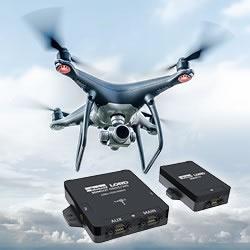 The new complete inertial navigation solution comes with GNSS/INS 3DMGQ7 sensor, 3DMRTK correction modem and real time SensorCloud RTK correction network. The sensor comes with Dual antenna GNSS, tactical grade IMU with centimeter-level accuracy with RTK. Low profile and light weight at 78 grams, this sensor is The sensor is optimized for size and weight in Unmanned Ground Vehicles, mobile robots and autonomous vehicles. The network interface 3DMRTK modem is seamlessly integrated into the 3DMGQ7 sensor supports industry-standard NMEA and RTCM 3.1 protocols. The network RTK support comes with cellular data plan. The SensorCloud RTK is a cloud-based RTK correction system with private encrypted data stream. Check out our G Series and C Series OEM products.