Today, Hyster Company announced that by working with Seegrid®, the leading provider of vision-guided flexible automated guided vehicles (AGVs), Guided by Seegrid® technologywill soon be available to Hyster customers.
The Guided by Seegrid technology allows Hyster to increase the intelligence of its lift trucks with Seegrid's premier vision-guided automation system. The system delivers smart navigation without the need for wires, lasers, or tapes like other AGVs.

Brett Schemerhorn, Vice President of Marketing for Hyster explained, "The toughness of our Hyster products are matched only by their complementary intelligence to deliver a high level of overall value to our customers. We are excited to see how we can integrate more technology into some of our products with the Guided by Seegrid technology."
Anthony Horbal, Chief Executive Officer for Seegrid noted, "The rugged Hyster product line paired with Seegrid's revolutionary vision-guided navigation system combines the best of two solid technologies. The relationship between our two companies provides Hyster customers the opportunity to deploy an important automation solution with a trusted equipment brand already used every day in manufacturing and distribution."
The Guided by Seegrid technology will help reduce the total cost of ownership for certain lift truck fleets. This reduction will offset labor needs and enable existing employees to be redeployed to value-added roles within the business. The handling of materials through automated transportation processes also helps improve facility safety and productivity, further reducing costs.
About Hyster
Based in Greenville, N.C., Hyster Company (www.hyster.com) is a leading worldwide lift truck designer and manufacturer. Hyster Company offers 130 models configured for gasoline, LPG, diesel and electric power, with the widest capacity range in the industry - from 2,000 to 105,000 lbs. Supported by one of the industry's largest and most experienced dealer networks, Hyster Company builds tough, durable lift trucks that deliver high productivity, low total cost of ownership, easy serviceability and advanced ergonomic features; accompanied by outstanding parts, service and training support.
Hyster Company is part of NACCO Materials Handling Group, Inc. (NMHG), a wholly owned subsidiary of Hyster-Yale Materials Handling, Inc. (NYSE:HY). Hyster-Yale Materials Handling, Inc., headquartered in Cleveland, Ohio, and its subsidiaries employ approximately 5,100 people worldwide.
About Seegrid
Seegrid Corporation provides simple, affordable, flexible vision-guided automated guided vehicles (AGVs) to the material handling industry. Seegrid robotic industrial trucks, flexible AGVs, are revolutionizing the movement of materials in manufacturing and distribution environments. Seegrid automated pallet trucks and tow tractors optimize workflow processes by increasing productivity and reducing costs, creating economic and operational advantages. Robotic industrial trucks deliver a rapid return on investment, improve facility safety, and reduce equipment and product damage. Recently named Manufacturer of the Year, Seegrid was also awarded the Gold Medal Award at the WBT Innovation Marketplace 2013 competitive event. Seegrid was named to the Food Logistics Top 100 software and technology providers. Follow Seegrid Corporation on Twitter at @Seegrid.
http://www.seegrid.com/
Featured Product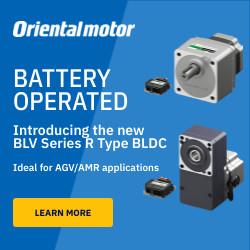 The BLV Series R Type brushless DC motor (BLDC motor) speed control system offers the design of motor and driver significantly reduced in size and weight, yet high-power, and contributes to the battery driven automation. The BLV Series R Type is compatible with the two interfaces of Modbus (RTU) and CANopen communication.