Robust, web-based tool reduces time and uncertainty when selecting optimal fuse for application
CHICAGO--Littelfuse, Inc., the global leader in circuit protection, has introduced the Littelfuse iDesign™ Online Fuse Design and Selection Tool, a robust, web-based tool designed to help circuit designers identify the optimal electronic fuses for their projects. The Littelfuse iDesign tool, the first of its kind available from a circuit protection device supplier, was developed in response to requests from Littelfuse customers. It offers a fast, intuitive way to identify the best component for an application, find parts documentation, and order part samples for prototyping, all in one convenient package. To use the Littelfuse iDesign tool, simply register to create a free online account at the iDesign Login.

Unlike the simple parametric search tools or catalog-based selection charts many other circuit protection component suppliers provide, the Littelfuse iDesign tool walks users through a fuse selection process that quickly narrows the available options based on the inputs provided. The iDesign tool currently supports electronic, board mounted fuses used in a wide variety of applications, excluding system-level fuses, power fuses or automotive-style fuses. The iDesign tool's flexibility will allow Littelfuse to incorporate additional circuit protection devices in the future, so users should check back frequently for the latest additions.
Bharat Shenoy, the director of Technical Marketing for the Electronics Business Unit at Littelfuse, noted, "The iDesign tool is much more powerful than any simple parametric search of a parts database, which can often deliver either dozens of part number recommendations or none at all, depending on the parameters you input. Unlike those tools, which assume a lot of prior knowledge on the circuit designer's part, the iDesign tool is based on the calculations set out in our popular Fuseology Application Guide and combines them with the information in our fuse datasheets. That lets circuit designers make accurate fuse selections more quickly, simply, and cost-effectively than ever before. In real-life circuits, a less-than-optimal fuse selection can be dangerous and expensive, leading to premature failures, safety hazards, and warranty problems. The iDesign tool can ensure that the fuse chosen by the circuit designer is reliable and safe to use before it gets ever build into a product."
Shenoy continued, "In the past, selecting the right fuse for an application could be a very confusing and time-consuming exercise. But with the Littelfuse iDesign tool, we've turned what was once a pretty complex process into a quick and intuitive procedure that users at all levels of circuit design sophistication can understand easily. At every step of the selection process, tutorial buttons and notes guide the user. In addition, a Design Manager toolbar lets users create, save and re-load their selections, as well as share them with co-workers, simplifying collaboration on larger design projects."
To view a short online tutorial on using the Littelfuse iDesign tool, visit: http://vimeo.com/90118164
About Littelfuse
Founded in 1927, Littelfuse is the world leader in circuit protection with growing global platforms in power control and sensing. The company serves global customers in the electronics, automotive and industrial markets with technologies including fuses, semiconductors, polymers, ceramics, relays and sensors. Littelfuse has over 7,500 employees in more than 35 locations throughout the Americas, Europe and Asia. For more information, please visit the Littelfuse website: littelfuse.com.
Featured Product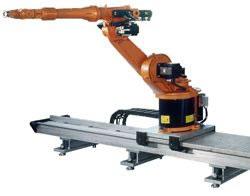 IPR Robotics offers a wide range of servo-driven 7th axis linear rails for industrial robots. These rails come in ten different sizes and are constructed from modular high strength extruded aluminum sections to handle payloads of 100 kg to 1600 kg or from steel to handle 2000 kg payloads. This variety of rail sizes allows each application to be sized correctly, controlling the space required and the price point. The drive train design of these rails utilizes helical gear-racks and is proven over 10 years to be repeatable and reliable, even in tough foundry applications.