On April 23-26, 2014, students from around the world will converge on Anaheim, Calif. for the ultimate robotics showdown - The VEX Robotics World Championship!
ROCKWALL, Texas--The VEX Robotics World Championship - the climax of the season for the largest and fastest growing educational and competitive robotics program in the world - presented by the Robotics Education and Competition (REC) Foundation and the Northrop Grumman Foundation, is taking place this week! On April 23-26, 2014, over 15,000 participants from over 26 countries will meet and engage in a fierce, science and technology-fueled battle at the Anaheim Convention Center.

Each year, VEX reaches more than half a million students across the world in the classroom and through after-school competitions, turning robotics into a captivating hands-on sport that challenges both students' brainpower and teamwork skills. Competitors at this level make up the world's sharpest, most ambitious, technology-focused elementary school, middle school, high school, and university students. These young prodigies have committed their time and energy throughout the season designing, building, programming, and developing their own unique competition strategies at more than 750 local, regional and national tournaments. Of the more than 10,000 VEX Robotics teams that exist in the world, the top 760 teams have earned the right to travel to Anaheim, California where they will form strategic alliances with other teams and challenge competitors at the 2013-2014 season games: VEX Toss Up and VEX Add It Up.
Additionally, this will be the second year for the VEX Robotics World Championship VEX IQ Challenge - a new, exciting STEM program for elementary and middle school students. Using the VEX IQ platform, students with guidance from their mentors build robots designed to solve specific engineering challenges that are presented in the form of a game. In addition to building robots, the VEX IQ Challenge encourages students to actively learn about science, technology, engineering and mathematics with a STEM-themed research project that consists of a written or media presentation.
Legendary skateboarder, Tony Hawk, will be in attendance, visiting teams and checking out qualifying matches Friday afternoon, and will provide a few opening remarks before the grand unveiling of the new game for the 2014/2015 season. The VEX Robotics World Championship is open to the public, FREE, and fun for the whole family! In fact, spectators are welcome and encouraged to watch matches, attend ceremonies, and visit with teams in the pit area as they strategize and prepare their robots for competition.
"It's always exciting and inspiring to watch the students in action at the VEX Robotics World Championship. We're so proud of how the REC Foundation has been able to bolster these essential STEM programs and continue to grow the VEX Robotics Competition and the VEX IQ Challenge," said Jason Morrella, president of the REC Foundation. "The students that immerse themselves in these programs are the innovators of the future; tomorrow's great scientists, engineers, and educators."
Partners and sponsors of the 2014 VEX Robotics World Championship include Northrop Grumman Foundation, EMC, NASA, Chevron, Microchip, Texas Instruments and HEXBUG.
Fans can follow the competition and sign up for real-time competition news and results via live webcasts, Facebook, Twitter, Flickr, Instagram and YouTube updates. Real time tournament results are also available through VEX via an iPhone and Android compatible app, which provides match schedules, rankings and scores. For more information visit RobotEvents.com/championship.
About REC Foundation
The REC Foundation seeks to increase student interest and involvement in science, technology, engineering and mathematics (STEM) by engaging students in hands-on, sustainable and affordable curriculum-based robotics engineering programs across the U.S. and internationally. Its goal is to provide these programs with services, solutions, and a community that allows them to flourish in a way that fosters the technical and interpersonal skills necessary for students to succeed in the 21st Century. The REC Foundation develops partnerships with K-12 education, higher education, government, industry, and the non-profit community to achieve this work so that one day these programs become accessible to all students and all schools in all communities. For more information on REC Foundation, visit www.roboticseducation.org.
About VEX Robotics, Inc.
VEX Robotics is a leading provider of educational and competitive robotics products to schools, universities and robotics teams around the world. The company's three product lines, VEX IQ, the VEX Robotics Design System and VEXpro, are backed by 250 man years of experience supporting educational robotics programs and designed to be affordable, accessible and scalable. The company also partners with the non-profit Robotics Education & Competition Foundation to support the world's largest and fastest growing competitive robotics program for elementary schools, middle schools, high schools and colleges around the world. The VEX IQ Challenge, the VEX Robotics Competition, and VEX U were designed to give a diverse group of students the chance to celebrate their accomplishments and share their passion for robotics with each other. In 2013-2014, nearly 9,500 teams from 28 countries will participate in over 800 competitions worldwide.
Featured Product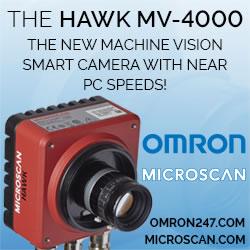 Awe-inspiring power and superior flexibility is sheathed within the contoured casing of the HAWK MV-4000. This smart camera builds upon the previous generation by quadrupling processing power and achieving real-time trigger response using an FPGA. Its state-of-the-art algorithms make it an excellent tool for any industry, whether the requirement be code reading, code verification, inspection, guidance, gauging or a combination of all four.