That Can Reduce 16 Cables for Signal Transmission to Just One
TOKYO--THine Electronics, Inc. (JASDAQ:6769), the global leader in high-speed serial interface and provider of mixed-signal LSI, today announced its new interface technology, I/OSpreader, reducing 16 cables for transmitting digital data to just one within electronics equipment. I/OSpreader can be applied in various applications, simplifying internal cable alignments, reducing required internal space for cables, designing period, and costs for cables and connectors. THine has started its mass production of its new products, THCS131/132 with I/OSpreader.

I/OSpreader converts parallel data with 16 cables to serial data with just a cable while, for example, electronic devices generally have each cable for each signal of data such as ON/OFF signals from switches, LED ON/OFF signals, controlling signals to motors, or those to speakers. In addition, I/OSpreader allows to transmit data with device address up to 16 devices simultaneously.
I/OSpreader is suitable for equipments that have constraints in internal space for cables with switches, LEDs, motors, speakers, and equipments with hinges or structures of the joint in transmitting data. For instance, I/OSpreader is expected to be applied to various equipments such as ticket vending machines, automated teller machine, point of sales machines, multi-function printers, multi-function phones, industrial machine tools, pumps, robotics, endoscopes, amusement equipments, speakers, and consumer electronics.
Features of THCS131/132
*No outside clock required because of input parallel data to registers from internal clocks
*Sampling frequency: 50Hz for unidirectional communication and 30Hz for bidirectional communication
*Lineups with THCS131 packaged in DIP-20, supporting 8 bit signals
About THine Electronics
THine Electronics Incorporated is a fabless maker that provides innovative mixed signal LSI and analog technologies such as high-speed SerDes, TCON, ADC, ISP, and power management in HDTVs, smartphones, document processing, amusement, industrial, and automotive markets. THine is headquartered in Tokyo with subsidiaries in Taipei, Seoul, Hong Kong, and Shenzhen. THine Electronics is listed on JASDAQ of Tokyo Stock Exchange under the security code of 6769. World Wide Web site: http://www.thine.co.jp/en/.
Featured Product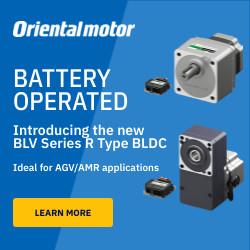 The BLE2 Series replaces our popular BLE Series and continues our brushless motor advantages by featuring an all new compact, high-power and high-efficiency brushless DC motor combined with a Driver that can be digitally set and controlled via external DC voltage or by the front panel. The BLE2 Series can easily compete with larger 3-phase inverter driven motors in many more applications, with built-in simple holding torque function, saving space and increasing performance thanks to the advantages of a brushless motor design. The BLE2 Series has a maximum speed of 4000 r/min, achieving a speed ratio of 1:50 (80 to 4000 r/min). The new motor structure is small than previous models and enables high power and high efficiency while incorporating easy setting, installation and wiring. The new motor connector offers IP66 degree of protection and allows for easy and direct connection between motor and driver with two available orientation of cable outlet direction. Standardized use of stain