With over 55 years pioneering robots, Panasonic has long been at the forefront of the revolution.
Rolling Meadows, IL - Parallel Link Robot made its first North American appearance in the Panasonic Factory Solutions Company booth at the 2014 IPC APEX show with a resounding level of interest.

With over 55 years pioneering robots, Panasonic has long been at the forefront of the revolution. The innovative Parallel Link Robot, is an easy-to-program, automated assistant for various manufacturing applications including, insertion, wiring, assembling, adhesive application, soldering, and labeling. Its simple, direct teaching process uses hand-guided intuitive operation to faithfully replicate precise human motion.
"This six-axis robot doesn't require the typical engineering skills and computer work needed to program most robots and once its programmed, it can be running 24 hours a day, making it a truly efficient solution," said Brent Fischthal, Sr. Marketing Manager for Products & Solutions, Panasonic Factory Solutions Company of America.
"Manufacturers the world over recognize the importance of automation. As traditional cost-sensitive regions give way to new locations and manufacturing initiatives further drive quality improvements, robotics will continue its pivotal role in the future of electronics manufacturing. This is especially evident in North America," added Fischthal. According to the Robotic Industries Association, about 228,000 robots are now used in United States factories, placing the U.S. second to Japan in robot use. Last year, more than 22,000 robots, valued at $1.39 billion, were delivered in North America, an 11 percent growth in units shipped over 2012, a record year.
Parallel Link Robot is part of the ever-widening array of solutions Panasonic Factory Solutions Company of America offers to electronics manufacturers of any mix and any volume production.
About Panasonic Factory Solutions Company of America
Panasonic Factory Solutions Company of America, a North American source for electronic assembly equipment (SMT), software, and technical support, provides total business systems solutions for electronic semiconductor and packaging companies in the global marketplace through one provider. The company is a unit of Panasonic Corporation of North America, which is the principal North American subsidiary of Panasonic Corporation.
Featured Product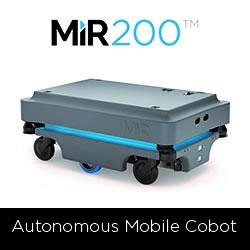 MiR200 is a safe, cost-effective mobile robot that automates your internal transportation. The robot optimizes workflows, freeing staff resources so you can increase productivity and reduce costs. MiR200 safely maneuvers around people and obstacles, through doorways and in and out of lifts. You can download CAD files of the building directly to the robot, or program it with the simple, web-based interface that requires no prior programming experience. With its fast implementation, the robots offers a fast ROI, with payback in as little as a year.