2014 Army Aviation Mission Solutions Summit in Nashville, TN
Reston, Va.-QinetiQ North America (QNA) will have its latest fleet management and training solutions available for demonstrations at the Army Aviation Association of America's (Quad-A) 2014 Army Aviation Mission Solutions Summit in Nashville, TN.

What: Quad-A 2014 Army Aviation Mission Solutions Summit
When: May 4-6, 2014
Where: Gaylord Opryland Hotel, Ryman A, Nashville, TN
Subject matter experts will be available to demonstrate QNA services that can be tailored to support any specific training or fleet management mission. You'll also get the opportunity to speak with them about any trends and challenges they are tracking. The QNA training and unmanned systems directorate, part of the company's Services and Solutions Group, delivers high value live, virtual and constructive training solutions as well as agile UAS operational training and support to DoD and commercial customers.
Specific demonstrations will include:
*The Single Integrated Material Management System (SIMMS): a software-based logistics information system that enables organizations to conduct operational maintenance and asset management. It is currently in service with the US military. SIMMS can help users keep track of all their hardware and its related maintenance and disposal processes. From vehicle, surface combatant and aircraft fleets to specialized mission essential equipment, SIMMS offers a complete management solution. Using SIMMS results in reduced lifecycle sustainment costs, improved operational maintenance and realized asset management goals.
*FlightAnalyst™ and FlightViz™: interactive flight data applications that identify events, deviations and trends to provide visual and analytical presentations of real or simulated flight data. FlightViz automatically creates an animated, interactive, three-dimensional representation of the flight so that flight/simulator debriefing is tailored to re-creating actual events from actual data, rather than abstract re-construction. FlightAnalyst allows query capability for both pre-defined and ad-hoc definitions of airframe, operational, tactical, and mission limits to detect deviations and exceedences. Embedded trend analysis is used to identify causal factors to improve operational or safety performance, training objectives and maintenance efficiency.
*The Program Control System II (PCSII™) is a scalable, enterprise-oriented data-fusion system; deployable at the workgroup, across the enterprise or in the cloud. PCSII's web-based interface provides state-of-the-art, real-time data mining and visualization tools tailored to the specific mission of the organization. PCSII and its suite of tools sit atop disparate data sources - from flat files to relational and/or NoSQL databases - linking related data from different systems in order to expose actionable business intelligence information. PCSII is more than just a software package; it is a platform and a service.
About QinetiQ North America
QinetiQ North America (QNA) is a subsidiary of QinetiQ Group plc, the FTSE250 company listed on the London Stock Exchange (LSE:QQ.L). Operating in North America, QNA delivers world-class technology, responsive services, and innovative solutions for global markets, focusing on US government and commercial customers. Its engineers, scientists and other professionals deliver high quality products and services that leverage detailed mission knowledge and proven, reliable tools and methodologies to meet the rapidly changing demands of national defense, homeland security and information assurance customers. QNA is headquartered in Reston, Virginia. For more information visit www.qinetiq-na.com.
Featured Product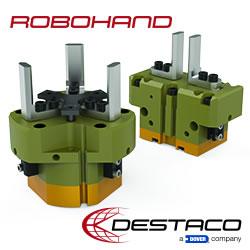 Destaco's Robohand RDH/RTH Series 2 and 3 jaw parallel grippers have a shielded design that deflects chips and other particulate for a more reliable, repeatable operation in part gripping applications ranging from the small and lightweight, to the large and heavy. RDH Series of Rugged, Multi-Purpose Parallel Grippers for Heavy Parts - Designed for high particulate application environments, automotive engine block, gantry systems, and ideal for heavy part gripping The series includes eight sizes for small lightweight to large/heavy part gripping. RTH Series of Powerful, Multi-Purpose Parallel Grippers for Heavy Parts - Designed for large round shaped parts, automotive engine block and gantry systems, and heavy part gripping. They're available in eight sizes for small lightweight to large and heavy part gripping.