New GECKO 4TX Ethernet Switch Enables Fast, Easy Deployment and Lower Operating Costs
ST. LOUIS--Belden Inc., a global leader in signal transmission solutions for mission-critical applications, has extended its comprehensive range of industrial Ethernet products by introducing the GECKO 4TX switch. This switch creates a new product category by combining the advantages of fully-managed switches with the benefits of fast and simple deployment.

With easy-to-implement management functionality, the GECKO 4TX allows users to focus on the essentials, making it convenient to configure and monitor without needing special IT know-how. The switch's low power consumption also helps cut long-term operating costs.
"For anyone reluctant to use managed switches because of their complex operation, the GECKO 4TX is the ideal alternative," explains Product Manager Sebastian Preiss. "While its functional scope is not as extensive as a fully managed switch, the GECKO 4TX allows high network availability thanks to redundancy and diagnostic functions, and offers genuine added value compared to unmanaged devices."
The GECKO 4TX was designed with practical essentials in mind, including the proper level of management functionality. This concept allows the GECKO switches to deliver the required performance when unmanaged switches cannot.
Other benefits include:
*The switch can be managed through Simple Network Management Protocol (SNMP) or via HiDiscovery and Industrial HiVision from Hirschmann. A web interface for HyperText Transfer Protocol Secure (HTTPS) deployment is also available.
*For monitoring purposes, the switch provides diagnostic and documentation options, such as a system log, Remote Monitoring and Link Layer Discovery Protocol. Rapid Spanning Tree Protocol and Quality of Service functions are also supported.
*In-active ports can be disabled to protect against possible misuse.
*The switch can be mounted on a top-hat rail and requires little space thanks to its compact design (25 x 114 x 79 mm).
*Power consumption of less than 3 W for minimal electricity and energy efficiency.
*Additional features, such as, four Fast Ethernet ports (10/100 Mbit/s), IP30 protection rating, a temperature range from 0°C to +60°C, high shock and vibration resistance, and a 24 V DC power supply.
Ideally suited for use in smaller networks or on the edge of large installations, the robust and compact GECKO 4TX can be used in a wide range of areas, from solar farms to production lines for the food and beverage sector. Potential applications include machine and plant engineering, material handling, robotics and connection of production cells for various industries. The GECKO 4TX guarantees reliable data communication wherever it is installed.
Detailed information is available at http://www.hirschmann.com/en/Hirschmann_Produkte/Industrial_Ethernet/GECKO_4TX/index.phtml.
An early innovator in industrial Ethernet, Belden knows Industrial IT and is delivering the next generation of industrial networking solutions. Its global brands - Hirschmann, GarrettCom and Tofino Security - are leading the way in the adoption of industrial Ethernet. With a purpose-built portfolio, Belden's wired, wireless and embedded products deliver the highest confidence of reliability, availability and security. In addition, excellent warranties and dedicated customer support minimize downtime, protect critical infrastructure and provide peace of mind.
About Belden
Belden Inc., a global leader in high-quality, end-to-end signal transmission solutions, delivers a comprehensive product portfolio designed to meet the mission-critical network infrastructure needs of industrial, enterprise and broadcast markets. With innovative solutions targeted at reliable and secure transmission of rapidly growing amounts of data, audio and video needed for today's applications, Belden is at the center of the global transformation to a connected world. Founded in 1902, the company is headquartered in St. Louis and has manufacturing capabilities in North and South America, Europe and Asia. For more information, visit us at www.belden.com; follow us on Twitter @BeldenInc.
Featured Product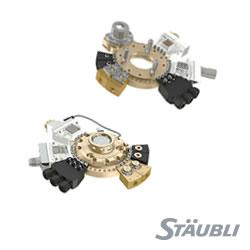 Stäubli is a pioneer in the construction and development of robotic tool changing systems. Our customers benefit from our many years of expertise in all industry sectors, as well as our modular product concept, which offers three efficient solution paths: MPS COMPLETE offers preconfigured robotic tool changers for immediate use. MPS MODULAR allows the user to determine the configuration, while MPS CUSTOMIZED allows the construction of special, application-specific systems.