Anaheim Automation relaunched their line of Kinco PLCs offering a variety of components with a wide assortment of integrated features.
Anaheim, CA May 01, 2014

Anaheim Automation is making changes to their line of programmable logic controllers and human machine interfaces. A long-time distributor of Kinco PLCs, Anaheim Automation has decided to transition from their line of CIMON PLCs into a line of Kinco PLCs to supplement their already blossoming offering of Kinco HMIs: http://www.anaheimautomation.com/marketing/hmi-plc/programmable-logic-controllers.php. Seeing opportunity for growth and success in this new transformation, Anaheim Automation is excited about their new endeavor, entrusting Kinco programmable logic controllers will provide their customers with the rugged quality they need at low prices.
These Kinco PLCs offer Anaheim Automation customers with the capability to handle up to 136 I/O points. The Kinco PLC line is composed of a various models including the K52, K53, K54, K506 CPU, and K508 CPU. The PLC line is equipped with high-speed counters in addition to having discrete and analog I/O options. The line offers stepper and servo positioning and also gives the option of RS232, RS422, or RS485 communication ports; however other I/O, temperature, and CANOpen modules are available as well. The Kinco PLC line is priced competitively, and offers a free interactive software download in addition to Anaheim Automation's typical free technical assistance and customer service.
Anaheim Automation also will continue to offer Kinco HMIs to supplement their new line: http://www.anaheimautomation.com/marketing/hmi-plc/human-machine-interfaces.php. Their human machine interface line includes screens ranging from 4.3" to 15" with speeds between 400 and 1.6GHz powered by a 32-bit RISC processor. The product line uses a USB connection to most PLCs, accelerating the download speed. A large array of custom images can be created due to the 65536 true color TFT LCDs which also allow for Monochrome STN LCDs to be read easily in any environment.
Anaheim Automation, Inc. is a manufacturer and distributor of motion control products with over 45 years of experience. Combining enthusiasm, dedication, and innovation, Anaheim Automation strives to supply thousands of customers worldwide with the quality components they require to make their application succeed. Anaheim Automation surpasses competitors with their Stepper product offering, providing one of the largest in the industry. Vast lines of Brushless and Brush DC, Servo and AC motors, controllers and drivers are also offered at competitive prices. High-precision Gearboxes, Tables, Linear Guides, and more provide increased performance and efficiency. For more information about Anaheim Automation and their products, call 714-992-6990 or visit http://www.anaheimautomation.com.
Featured Product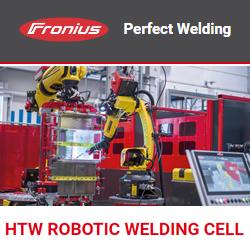 Modular, collaborative, and flexible: the "Handling-to-Welding" robotic welding cell joins parts of different geometries and materials. The task is carried out by two robots - the handling robot positions the workpieces, the second robot performs the welding. Depending on the cell configuration, lock gates are available for the inward and outward transport of parts. Furthermore, various positioners, a TCP measurement system, a torch cleaning system, a gripper station, and a contact tip change system are also possible.