NASA to use Boston-Power's lithium-ion cells in both space as well as terrestrial development programs. Robonaut 2 battery pack expected to be delivered to the International Space Station (ISS) later this year by SpaceX.
Westborough, MA April 30, 2014

Boston-Power Inc., an industry leading developer and manufacturer of lithium-ion batteries and energy storage technologies, today announced that its Swing 5300 lithium-ion (Li-Ion) cell technology is being used by two NASA robotic programs: The Robonaut 2 (R2) program which expands the robotic capability currently being used on the International Space Station (ISS); and the R5 Valkyrie program which is developing a robot to respond to natural and manmade disasters as well as future space missions.
With a long-standing relationship since 2010, Boston-Power and NASA have worked cooperatively under the guise of a Space Act Agreement. During this time, Boston-Power cells have continued to meet NASA's performance needs while also passing their stringent safety and quality requirements.
Robonaut 2 is a human-like robot designed to work alongside astronauts as a robotic assistant. Boston-Power's cells help expand the capabilities of the original Robonaut, launched into space in 2011, by enabling un-tethered power and communication functionality. Future generations may serve a variety of remotely controlled functions from equipment maintenance and repair to staff medical care.
The R5 Valkyrie robot is initially focused on meeting the requirements of the DARPA Robotic Challenge (DRC); creation of a humanoid robot that can operate in an environment built for people, and use tools made for people, in the context of a simulated industrial disaster response. In the future, technologies such as R5 Valkyrie are expected to be the foundation for the type of robotic systems that will one day be used in the precursor missions to sending astronauts to Mars.
"At Boston-Power, we are proud to be serving the needs of NASA with our products and technology," said Boston-Power CTO Richard Chamberlain. "Working with the NASA development teams has been a beneficial two-way relationship over the past several years; NASA's reliability testing and quality processes have helped Boston-Power to gain a deeper understanding of the way our technology works and improve all of our product platforms."
The SpaceX launch that will carry the Robonaut 2 battery pack using Boston-Power cells to the International Space Station is expected to take place later this year. The development of the R5 Valkyrie robot continues with the goal of participating in the DRC Finals at the end of 2014.
About Boston-Power
Boston-Power is a developer and manufacturer of next-generation lithium-ion battery cells, blocks, modules, and systems. Designed to fuel a wide range of applications, its flagship offerings, Swing® and Sonata®, serve as the foundation for a new era of longer lasting, faster charging, safer and environmentally sustainable batteries. The company's Swing product delivers unmatched capabilities for Battery Electric and Plug-In Hybrid Electric Vehicles (BEV/PHEV), and utility energy storage applications. Sonata delivers industry leading performance to a wide range of portable power and industrial applications.
Boston-Power is a global company with R&D centers in Westborough, Massachusetts, USA, and Beijing, China, and mass manufacturing operations based in Asia. The company is funded by top-tier venture capital firms GSR Ventures, Foundation Asset Management and Oak Investment Partners. http://www.boston-power.com
Featured Product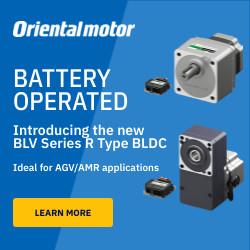 The BLE2 Series replaces our popular BLE Series and continues our brushless motor advantages by featuring an all new compact, high-power and high-efficiency brushless DC motor combined with a Driver that can be digitally set and controlled via external DC voltage or by the front panel. The BLE2 Series can easily compete with larger 3-phase inverter driven motors in many more applications, with built-in simple holding torque function, saving space and increasing performance thanks to the advantages of a brushless motor design. The BLE2 Series has a maximum speed of 4000 r/min, achieving a speed ratio of 1:50 (80 to 4000 r/min). The new motor structure is small than previous models and enables high power and high efficiency while incorporating easy setting, installation and wiring. The new motor connector offers IP66 degree of protection and allows for easy and direct connection between motor and driver with two available orientation of cable outlet direction. Standardized use of stain