Gamma 2 Robotics ("G2R"), developers of the world's first commercially available security robot, announced today that its Vigilant robots have been selected to provide 12-hour overnight security for the Denver Mini Maker Faire at the prominent National Western Complex.
Working entirely autonomously during the nights of May 2nd and 3rd, G2R's robots will patrol the event floor to protect the integrity of hundreds of vendor booths and the safety of its anticipated 10,000 - 15,000 attendees. G2R has previously provided overnight security for two other National Western Complex events, both times successfully demonstrating the effectiveness of its robots.

"We are honored to again be selected to provide overnight security for a National Western Complex event, and specifically for an event we as inventors strongly believe in - The Denver Mini Maker Faire," stated G2R President and Co-Founder Jim Gunderson. "Our own robots are the product of much the same creative process as that the event's "Makers" have undergone, and we feel a special obligation to protect their work from damage or theft.
"Moreover, we also appreciate the thousands of attendees who will support these Makers. Our robots contribute to the safety of any large crowd in advance of an event by recognizing and reporting out-of-place objects, aberrations in a large space that a human guard may not notice."
Karen Corliss, Maker Relations, said "Very much in line with the spirit of the Denver Mini Maker Faire, we are excited to have an innovative product such as Vigilant Security Robots providing our overnight security. The Denver Mini Maker Faire is a celebration of the newest ccreations and innovations Denver has to offer and to also have cutting-edge technology helping us in Operations is icing on the cake!"
About Gamma 2 Robotics, Inc. (www.gamma2robotics.com)
Based in Denver, Gamma 2 Robotics ("G2R") produces intelligent and autonomous robots. After more than 5 years of development, it has engineered a revolution in commercial security - the "Cybernetic Brain", artificial intelligence that enables autonomous robots to operate independently and without manual supervision or remote control. G2R robots can detect and immediately report on invaders, fire, smoke, water, suspicious new objects and more. It is the only such product commercially available.
About Maker Faire (www.makerfaire.com)
Maker Faire is the Greatest Show (and Tell) on Earth-a family-friendly showcase of invention, creativity and resourcefulness, and a celebration of the Maker movement. It's a place where people show what they are making, and share what they are learning. Makers range from tech enthusiasts to crafters to homesteaders to scientists to garage tinkerers. They are of all ages and backgrounds. The aim of Maker Faire is to entertain, inform, connect and grow this community.
Denver Mini Maker Faire (www.denvermakerfaire.com) will launch in Colorado on May 3rd and 4th, 2014, at the National Western Complex. An anticipated 10,000 - 15,000 attendees and Makers will be amazed, engaged and inspired by Colorado's creativity.
Featured Product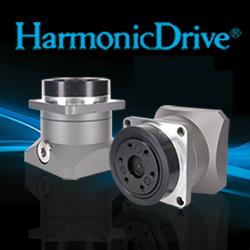 Harmonic Drive LLC, a leader in high precision motion control introduces new lightweight versions of select gearhead products. The new gearheads are ideal for designs where weight is a critical factor. Building on the success of Harmonic Drive LLCs current gear units, new lightweight versions were the next logical evolution of the CS/ SH product lines. With weight reductions of 20-30% without any reduction in torque ratings, the Lightweight (LW) gear units provide exceptional torque density.