• HoodTech Vision will exhibit at AUVSI's Unmanned Systems 2014, May 13-15, in the Orange County Convention Center, Orlando, Florida, booth # 847. To view the online press kit, please go to: http://www.virtualpressoffice.com/kit/my2c.
May 6, 2014 - Hood River, OR - HoodTech Vision (www.hoodtechvision.com), a leading manufacturer of stabilized imaging payloads for small unmanned and manned systems, will be demonstrating the recently introduced Alticam 05-EO5, a 4-axis stabilized imaging payload for small to medium unmanned aircraft systems (UAS) at AUVSI's Unmanned Systems 2014 in Orlando, Florida, booth #847. Based on HoodTech Vision's latest EO imaging technology, the Alticam 05-EO5 features a four-axis stabilized gimbal system with coordinate hold mode and embedded video stabilization and tracking functions. The pan-over-tilt payload turret is vibration-isolated with a slew rate of 50 degrees/per second. With dual-mode operation, network/serial and analog (video), the 05 turret includes an embedded video server and an optional network interface.

The new Alticam 05-EO5 is a drop-in replacement for HoodTech's legacy Alticam 06 and Alticam 07 models, offering better optics and improved stabilization. For more information, please visit: www.hoodtechvision.com. To view HoodTech Vision's AUVSI (Unmanned Systems North America 2014) online press kit, please go to: http://www.virtualpressoffice.com/kit/my2c.
HoodTech Vision - www.hoodtechvision.com - Hood River, Oregon, designs and manufactures stabilized EO/IR camera turrets for long-range imaging from moving platforms, such as small unmanned aircraft, manned/unmanned ground and marine systems. The company's team of experts and vast experience in sensor integration, vibration isolation, disturbance rejection, and dedicated video processing has made HoodTech Vision the preferred supplier of highly mass-efficient, low SWaP, small UAV
ISR imaging payloads.
Featured Product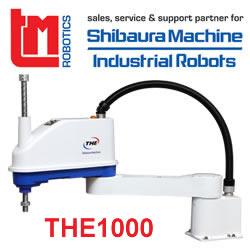 Designed for assembly and inspection applications in the electronics equipment and automobile components industries, the THE600 SCARA is a powerful automation tool. Advancing from the specifications of the existing THE400 SCARA, the THE600 has been developed to meet growing demand for fast-cycle automation. The THE600 model includes improvements in synchronised control and tracking precision. The THE600 is compact in design and offers improved high speed, with 60 per cent higher payload capacity than competing SCARA models in the same price range, making it the price-to-performance leader. Affordable price, impressive performance.