Sponsors FIRST® Robotics Competition Championship
BERWYN, Pa., May 5, 2014 -- TE Connectivity Ltd. (NYSE: TEL) announced today its participation in the 2014 FIRST® Championship, which took place April 23-26 at the Edward Jones Dome in St. Louis. TE is an annual sponsor and major supporter of FIRST (For Inspiration and Recognition of Science and Technology) which engages students in grades K-12 in exciting mentor-based programs that build science, engineering and technology skills.

As a major supporter of FIRST, TE employees have volunteered hundreds of hours serving as mentors for local FIRST teams and supported the regional FIRST events as judges, robot inspectors and general volunteers. This year, the TE Connectivity Foundation supported 25 teams, granted over $120,000 to support the teams, and made donations to match TE employee volunteer hours. In addition, as a supplier sponsor, TE Connectivity provided supporting products and technology to help students complete their designs. Following the presentation of their designs at the event, students interacted with TE engineers to share more about what went into each of their robots.
"As a champion of engineers and the engineering spirit, we are proud to be a long-time supporter of FIRST. Education and technology are key to our value of innovation and our goal to inspire the next generation of engineers," said Rob Shaddock, executive vice president and chief technology officer, TE Connectivity. "We are truly inspired by the level of cooperation and curiosity these young engineers display during the competition. Learning how to work together on a complex project like building a robot is an invaluable life skill."
TE Connectivity also co-sponsored the FIRST® Robotics Competition (FRC®) Hall of Fame area at the event. The FRC Hall of Fame exhibit recognizes the past recipients of the Chairman's Award-the highest honor awarded in FRC, outside of winning the competition. Each year, the award is presented to the team that embodies the purpose and goals of FIRST, and serves as a role model for teams in years to come.
To learn more about the FIRST Robotics Competition, visit: http://www.usfirst.org/roboticsprograms/frc
About TE Connectivity
TE Connectivity (NYSE: TEL) is a $13 billion world leader in connectivity. The company designs and manufactures products at the heart of electronic connections for the world's leading industries including automotive, energy and industrial, broadband communications, consumer devices, healthcare, and aerospace and defense. TE Connectivity's long-standing commitment to innovation and engineering excellence helps its customers solve the need for more energy efficiency, always-on communications and ever-increasing productivity. With nearly 90,000 employees in over 50 countries, TE Connectivity makes connections the world relies on to work flawlessly every day. To connect with the company, visit: www.TE.com.
Featured Product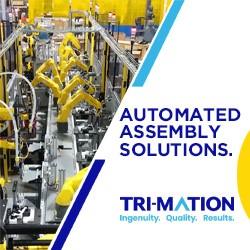 Tri-Mation reduces labor costs, improves accuracy, and production speed. Our integrators specialize in building automated assembly manufacturing systems for part production in any required volume or level of complexity.