In South Korea, June 12-13 at Kintex
NEW YORK--Mediabistro Inc. (Nasdaq:MBIS) announced that its Inside 3D Printing trade show June12-13 at Kintex will be South Korea's first major 3D printing event.

Exhibitors include some of the biggest and most influential companies in 3D printing, including Stratasys, ROKIT, Materialise, Canon Korea Business Solutions Inc., ESUN, and more. Joining the Maker Pavilion will be 3D Items, Alien Technology, AM Solutions, Intelli Korea, Make: Korea, Naturalise, Open Creators, and Studio MOA. Also hosting exhibits at Inside 3D Printing South Korea will be 3D Convergence Technology Center, 3Developer, AJ Networks, Artec Group, Ateam Ventures, Carima, Cybermed, Daelim Chemical Co., Ltd., Gyeonggi Convention Bureau, KITECH, K-Tech, Saehan Electronics Co., Ltd., Sundo Solutions, Vision Tech, and Wonik Cube. MBot 3D will be joining the event as a sponsor.
ROKIT and Stratasys, two leaders in 3D printing technology, will be the event's platinum sponsors. Materialise is the Silver Sponsor.
For complete information on Inside 3D Printing Conference and Expo, visit http://inside3dprinting.com.
If your company is interested in sponsoring or exhibiting, contact us at 3dprinting.sponsors@mediabistro.com.
About Mediabistro Inc.
Mediabistro Inc. (Nasdaq: MBIS) is a leading Internet media company that provides services for social media, traditional media, and creative professionals. Mediabistro is a leading producer of 3D printing and Bitcoin trade shows. Service offerings include an online job board, news and analysis, trade shows and events, online and in-person courses, and research products.
Featured Product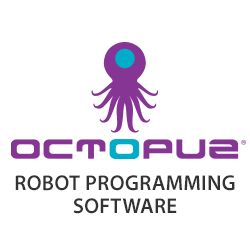 OCTOPUZ makes complex robot programming simple through cutting-edge Offline Robot Programming Software (OLRP) that enables detailed robot operations, complete with machinery and manufacturing components, to be first simulated on a computer, then output for the real world. Within this virtual cell, OCTOPUZ uses built-in machine logic to identify the optimal toolpath trajectory and program the required code for a multitude of industrial tasks. The code is then output for the specific robot brand, for use in the real world.