May 12 - 15 at the Orange County Convention Center, Orlando, Florida
CHARLOTTE, N.C., May 8, 2014 -- UTC Aerospace Systems will display a wide range of products for multiple unmanned platforms at AUVSI's Unmanned Systems 2014 tradeshow. The show takes place May 12 - 15 at the Orange County Convention Center, Orlando, Florida. UTC Aerospace Systems is a unit of United Technologies Corp. UTX +0.30% .

On display at the UTC Aerospace Systems booth (#1727) will be a PEM (proton exchange membrane) fuel cell energy system that provides air-independent power for unmanned underwater vehicles (UUVs). The fuel cell, operating on hydrogen and oxygen stored on board, provides a significant increase in vehicle endurance and capability compared to advanced batteries.
The UTC Aerospace Systems' electric power generation and controller will also be displayed. The power system is a high speed generator that can provide one to two kilowatts of electrical power. The controller provides regulation of the electric power generated for distribution to the platform and payloads. The technology is scalable for future systems needing small space claim electric generation and controls.
Multiple variants of the Cloud Cap Technology low-SWAP (Size, Weight and Power) stabilized TASE payloads will be demonstrated, with a live HD feed available to illustrate the ViewPoint tactical processing, exploitation and dissemination (PED) user interface. Autopilot experts will be on site to discuss integration of the Piccolo Flight Management System into new unmanned aircraft, including multi-rotor drones and hybrid quad-rotors (HQ) (vertical takeoff and landing (VTOL) fixed-wing aircraft). New this year will be the Cloud Cap Technology training service, featuring advanced mission scenario simulation and live hardware-in-the-air experience. Training can be delivered either at customer sites or in the dedicated training facility at UTC Aerospace Systems, Hood River, Oregon.
Visitors to the booth (#1727) can explore the range of Sensors Unlimited shortwave infra-red (SWIR) enhanced vision systems that enable surveillance through atmospheric obscurants, day and night. Unlike thermal vision systems SWIR technology utilizes reflected light, allowing observers to view contrast, shadows, painted markings and other elements commonly obscured by medium- and long-wave infrared imaging systems. A new lightweight DB-110 sensor pod developed for larger unmanned platforms, including the MQ-9 will also be focused.
Attending for the first time will be Silicon Sensors, a joint venture between UTC Aerospace Systems and Sumitomo Precision Products. Both specialize in high performance MEMS (micro electro mechanical systems), inertial sensors and systems for a range of autonomous vehicles. While UTC Aerospace Systems offers ice detection and protection plus smart air data systems, the Silicon Sensing team also provides reliable AHRS (attitude heading reference system) and flight control sensors. All the products meet the demanding requirements for performance, size and cost for unmanned platforms.
Technical staff to answer questions and provide demonstrations from UTC Aerospace Systems and Silicon Sensors will be on hand at the UTC Aerospace Systems booth (#1727).
UTC Aerospace Systems designs, manufactures and services integrated systems and components for the aerospace and defense industries. UTC Aerospace Systems supports a global customer base with significant worldwide manufacturing and customer service facilities.
United Technologies Corp., based in Hartford, Connecticut, is a diversified company providing high technology products and services to the building and aerospace industries.
Featured Product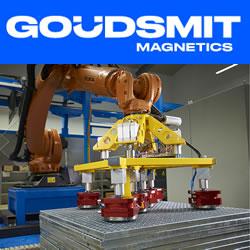 Magnetic robot end-of-arm tooling are suitable for the automated pick-up and positioning of steel or other ferromagnetic objects. They can be switched on and off and have a threaded mounting hole for robots. Magnetic grippers are an efficient alternative for traditional robot grippers. Application in automated production lines and for robots and pick-and-place systems. Magnetic product handling reduces the duration and number of operations. Goudsmit Magnetics is driven by magnetism since 1959. See how it works: https://youtu.be/hcXJ98mXHZE