Equipped with Energy Management Technology™, the new battery systems are configurable, intelligent, adaptable, and quick to market.
ORLANDO, Fla., May 12, 2014 -- Trust Automation, Inc., the world's leading developer of linear servo drives, creator of custom and standard high precision motion, motor control and system design as well as complete power train devices for the defense and other industries, today announced its new industry leading system solution, Agile Energy Management System™ (AEMS™). Equipped with Energy Management Technology™, the new battery systems are configurable, intelligent, adaptable, and quick to market.

"Using our new Agile Energy Management System our customers will have product traceability, reliability and predictability," said Ty Safreno, Chief Executive Officer of Trust Automation. "The System is custom designed to fit any configuration in air, ground, or maritime environments required by our defense and other industry customers with a wide range of capabilities."
Trust Automation product and system solutions experts including Mr. Safreno will be on hand at booth 557 at the AUVSI's Unmanned Systems trade show May 13 through May 15 at the Orange County Convention Center in Orlando, Florida to discuss and have hands-on live demonstrations of the Company's innovative, state-of-the art battery management system.
AEMS is equipped with both an Internal Battery Management System and a Cell Management System. This system is intelligent with programmable override, bypass, cell balancing, state of health, and state of charge indication. The systems are flexible and adaptable to any battery chemistry, voltage, power, weight, and mission requirement. They can be designed to fit from normal to rugged, harsh environments. Energy Management Network Technology enables configurable distributed architecture in a quick to market time frame built around each customers' system.
AEMS originate from a traceable manufacturing supply source with reliable high quality standards. Cells are purchased through direct agreements with manufacturers avoiding random distribution and counterfeit cells. Trust Automation tests 100% of cells on their automated system ensuring extreme reliability, then validated and graded prior to release. Built with AS9100 and ISO9001:2008 standards and lot numbers, systems are traced at pack level and shipped with Certificates of Conformance.
About Trust Automation
Trust Automation operates on a foundation of exceeding its customers' expectations in automation systems, developing motion and motor control solutions for the defense, semiconductor, industrial automation, green tech, and medical industries. Trust Automation has ongoing success with DARPA, IARPA, and DoD contracts. Trust Automation has almost 25 years of experience in; custom motors, controllers, motor drives and machine systems which meet the unique needs of its customers. Its product line includes; linear servo drives, high performance servo motors, standalone motion controllers, custom assemblies and products to fit unique applications and ground-up system design and manufacturing solutions. For more information please visit www.trustautomation.com or call 805-544-0761.
Featured Product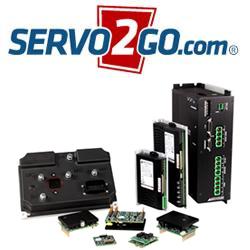 Engineered to drive brushless and brush servomotors in torque, velocity or position mode, Servo2Go.com offers a broad selection of servo drives in a wide range of input voltages and output power levels.