Industry Pioneer to Host Demos from UAV Solution Providers Phoenix Aerial Systems and LiDAR USA
Morgan Hill, CA May 10, 2014

At AUVSI's Unmanned Systems 2014 in Orlando - the biggest gathering in the industry -- Velodyne will be out in force, demonstrating its pioneering LiDAR technology and welcoming two partner providers who will show that technology in action. AUVSI kicks off on May 12 and wraps up on May 15.
Velodyne will display its flagship HDL products -- the classic HDL-64E and the lightweight and compact HDL-32E. The HDL-32E is the sensor of choice for LIDAR measurements with UAVs, thanks to its light weight (1kg/2.2lbs) and the vast amount of data it can capture (~700,000 data points per second). Its 32-beam approach minimizes shadows as the same points are being measured from different angles. The multiple beam approach means that even when the UAV is shaking back and forth, at least one of the 32 beams hits the desired target. By contrast, with a one-beam approach, any oscillation of the UAV could leave gaps in the scan pattern.
Joining Velodyne in Booth #615 will be UAV solution providers Phoenix Aerial Systems (http://www.phoenix-aerial.com) and LiDAR USA.com. Phoenix Aerial will demonstrate AL2, its latest integration of the HDL-32E into a UAV platform. LiDAR USA will exhibit Snoopy, a compact mobile mapping solution built around the HDL-32E. The system includes GPS/IMU and data acquisition, and is small enough to be mobile for cars, boats, trains, and even gyrocopters.
With more than 8,000 attendees and 550+ exhibitors from more than 40 countries, AUVSI's Unmanned Systems is recognized as the leading event for the unmanned systems marketplace. The Association for Unmanned Vehicle Systems (AUVSI) is the world's largest nonprofit organization devoted exclusively to advancing the unmanned systems and robotics community. AUVSI's 7,500 members worldwide come from government organizations, industry and academia. AUVSI's Unmanned Systems 2014 will include the most comprehensive collection of unmanned systems for every domain - air, ground and maritime - and will welcome the industry's top decision-makers.
About Velodyne LiDAR
Founded in 1983 and based in California's Silicon Valley, Velodyne, Inc. is a diversified technology company known worldwide for its high-performance audio equipment and real-time LiDAR sensors. The company's LiDAR division evolved after founder and inventor David Hall competed in the 2004-05 DARPA Grand Challenge using stereovision technology. Based on his experience during this challenge, Hall recognized the limitations of stereovision and developed the HDL64 high-resolution LiDAR sensor. More recently, Velodyne has released its smaller, lightweight HDL 32E sensor, available for many applications including UAVs. Since 2007, Velodyne's LiDAR division has emerged as a leading developer, manufacturer and supplier of real-time LiDAR sensor technology used in a variety of commercial applications including autonomous vehicles, vehicle safety systems, 3D mobile mapping, 3D aerial mapping and security. For more information, visit http://www.velodynelidar.com.
Featured Product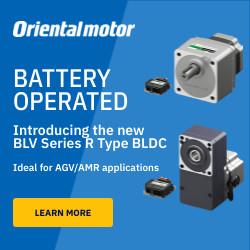 The BLV Series R Type brushless DC motor (BLDC motor) speed control system offers the design of motor and driver significantly reduced in size and weight, yet high-power, and contributes to the battery driven automation. The BLV Series R Type is compatible with the two interfaces of Modbus (RTU) and CANopen communication.