It is the smallest representative of electric small part grippers with integrated electronics of its kind.
The EGP from SCHUNK is the electric small part gripper with the most compact performance on the market. SCHUNK expanded the EGP series with a smaller size (25), which weighs 110 g, and has a stroke of 3 mm per finger. The gripping force can be adjusted on 2 stages and its maximum gripping force amounts to 40 N. The gripper can handle workpieces of up to 200 g, making the gripper as efficient as its pneumatic counterpart. Compared with other electrically driven small part grippers on the market, it has higher speeds at a higher gripping force than the competition. Its closing time amounts to 0.09 s.

It is the smallest representative of electric small part grippers with integrated electronics of its kind. The maintenance-free servo motors are brushless, and are equipped with efficient cross roller guidance. It ensures a high level of efficiency and transforms the grippers to dynamic and efficient solutions for sophisticated Pick & Place applications.
The mechatronic gripper is based on the platform of the proven pneumatic MPG-plus small part gripper, and offers many additional advantages: In many cases, the users can transfer the sensor system of the MPG-plus onto the EGP and existing systems can be quickly changed from pneumatics to electronics. Actuation is done analogous to the MPG-plus digitally directly, or via a sensor distributor. The MPG-plus and the EGP can be screwed on and through laterally and bottom-sided, which increases the flexibility of the whole plant design.
About SCHUNK: SCHUNK is the worldwide competence leader for clamping technology and gripping systems. Totaling more than 60 years of experience, SCHUNK is a family owned operation and a global player in one. For more information, visit www.schunk.com
Featured Product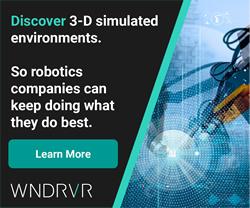 Develop new robotic capabilities with ROS 2 for VxWorks. ROS 2 for VxWorks® project provides custom modifications and build scripts to integrate the Robot Operating System 2 (ROS 2) framework with VxWorks 7. ROS 2 is a set of software libraries and tools that aid in building robot applications. Build ROS 2 for VxWorks using 1) with a VxWorks SDK that is available on the site under a free non-commercial use license; or via 2) with a commercially-licensed VxWorks product.