Student- and faculty-built autonomous aircraft, cars and robots demonstrated with other unmanned systems at a May 11 kick-off to an international conference.
Daytona Beach, FL May 14, 2014

A Ford Escape Hybrid, equipped by a team of Embry-Riddle Aeronautical University students and faculty with a GrayMatter Autonomous Vehicle System, navigated around NASA's Kennedy Space Center track on its own Sunday, May 11, without remote control or human involvement.
A precursor to the 2014 Unmanned Systems Conference being hosted by the Association for Unmanned Vehicle Systems International (AUVSI) this week in Orlando, Fla., the demonstration was part of Embry-Riddle's involvement in the Space Florida Unmanned Systems Demonstration on May 11 at the spaceport.
The university also pitted its Androne aircraft against 10 other organizations' unmanned drones, as well as its Minion and NASA Lunabot/Mining robots in other showings.
Embry-Riddle's Plan B Road Car performed with autonomous vehicles from the University of Central Florida. Using GPS and a scanner with 64 lasers to detect its position and environment, the car was first tested in September at Daytona Beach International Airport and is believed to be the first self-guiding vehicle in the country to be used for airport security.
The May 11 demonstration also featured unmanned air and ground vehicles for non-defense, civil and commercial applications, such as wildfire management, precision agriculture, search and rescue, environmental research and disaster response.
AUVSI is the world's largest non-profit organization devoted exclusively to advancing the unmanned systems and robotics community. AUVSI's 7,500 members worldwide come from government organizations, industry and academia. To learn more, visit the AUVSI website.
Martian Rovers May 19-23
An Embry-Riddle robotics team will travel to Kennedy Space Center again May 19-23 to compete against 40 other teams at the fifth-annual NASA Robotic Mining Competition. Machines must cross a simulated Martian landscape, excavate surface materials and deposit them into a collector bin within 10 minutes. The winning team will receive a trophy, Kennedy Space Center launch invitations and a $5,000 scholarship. Technology concepts developed by the teams could be the forerunners to robots mining resources in space.
For more information on the Robotic Mining Competition, visit https://www.kennedyspacecenter.com/events/2014/may/event-robotic-mining-competition.aspx. For more details on the AUVSI event, visit http://www.auvsishow.org/auvsi2014/public/enter.aspx. And for more on
Embry-Riddle's involvement in the AUVSI show, contact Marketing Manager Kristy Amburgey at (386) 226-4823.
MEDIA CONTACT: James Roddey, Communications and Media Relations Manager, Embry-Riddle Aeronautical University, Daytona Beach, Fla.; (386) 226-6198; james(dot)roddey(at)erau(dot)edu.
About Embry-Riddle Aeronautical University
Embry-Riddle Aeronautical University, the world's largest, fully accredited university specializing in aviation and aerospace, is a nonprofit, independent institution offering more than 70 baccalaureate, master's and Ph.D. degree programs in its colleges of Arts and Sciences, Aviation, Business and Engineering. Embry-Riddle educates students at residential campuses in Daytona Beach, Fla., and Prescott, Ariz., and through the Worldwide Campus with more than 150 locations in the United States, Europe, Asia, and the Middle East. The university is a major research center, seeking solutions to real-world problems in partnership with the aerospace industry, other universities and government agencies. For more information, visit http://www.erau.edu, follow us on Twitter (@EmbryRiddle) and facebook.com/EmbryRiddleUniversity, and find expert videos at YouTube.com/EmbryRiddleUniv.
Featured Product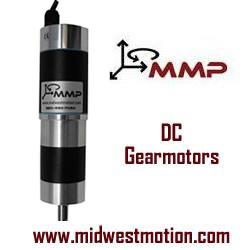 Midwest Motion Products, Inc. (MMP), is a well-established, healthy, & growing Family Owned Business, founded in 2001. MMP specializes in cost-effective standard DC Gearmotors, Motors, Controls, and ancillary equipment. Known world-wide for our "Lightning Fast" delivery capabilities, you can have a Standard Planetary or Right Angled DC Gearmotor BUILT and SHIPPED, often on the very same day you call. Offering Brushed and Brushless designs, with winding voltages ranging from 12 VDC to 120 VDC, we can deliver your "Robust & Reliable" samples within HOURS, instead of weeks, or even months.