Exhibit supported by Google will kick off national tour in Chicago
CHICAGO--They're coming... and they'll be here to help and improve our lives. The Museum of Science and Industry, Chicago (MSI), is excited to announce the creation of a new national touring exhibit, Robot Revolution, supported by Google.

The two-gallery, 14,000-square-foot exhibit, set to premiere at MSI in spring 2015, will explore how robots will ultimately be our companions and colleagues, changing how we play, live and work together. The exhibit will allow guests to step into a visionary world where robots are not just a curiosity, but a vital asset. Guests will have extraordinary opportunities to interact with robots that have rarely been publicly shown, and also see demonstrations of some of the most cutting-edge technology on the Robo Stage!
"Robotics is a truly fascinating field-and it's one that is growing exponentially," said David Mosena, president and CEO of the Museum of Science and Industry, Chicago. "This exhibit, in a fun and engaging way, helps answer questions like: How do robots work? How will they change our lives? How can I get involved in robotics? We are thrilled to bring this cutting-edge content to MSI and to tour it to other science museums around the nation."
Robot Revolution will come to life with more than 25 robots that have been secured from some of the most innovative global robotics companies. Guests will be awed by the amazing breakthroughs and capabilities of these machines. The exhibit will feature six areas that delve into various aspects of robotics and offer specific hands-on activities for guests.
"We believe it is vital to inspire the next generation of engineers and tech entrepreneurs so that we can continue to see technology change the world. Google is happy to support MSI's Robot Revolution exhibit to make complex concepts accessible to kids of all ages and to get them excited about science, technology, engineering and math," said Jim Lecinski, head of Google's Chicago office.
Robot Revolution is supported by Google with additional support from The Boeing Company, RACO Industrial, The David Bohnett Foundation and The Kaplan Foundation. For the full press release, visit http://www.msichicago.org/about-the-museum/press/robot-revolution/
Featured Product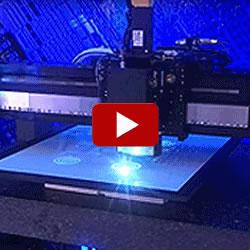 A traditional gantry system employs X-Y or X-Y-Z range of motion. Mounted on a base plate, usually granite, 2 parallel rails constitute the synchronized Y axis motion while the cross axis (bridge axis) provides the X motion. A vertical axis can be added on the bridge for the Z motion. A Split Bridge system can be less complex than a traditional gantry system because synchronization of the two parallel linear motors is not required. Both systems are used in industrial production, testing, and additive manufacturing.