A new symposium on Sensing Technology and Applications launched alongside the long-standing Defense and Security symposium was a well-received addition to SPIE DSS last week in Baltimore. Already established as the industry's most important engineering and scientific conference and exhibition covering optics, infrared, imaging, and sensing, SPIE DSS held strong in total attendance and saw a record number of visitors in the exhibition hall.
BELLINGHAM, Washington, and BALTIMORE, Maryland, USA May 15, 2014

A new expanded emphasis at SPIE DSS last week on Sensing Technology and Applications was well-received as a strong complement to the event's long-standing Defense and Security topics. Total registered attendance was nearly 5,800, and the exhibition's 454 companies saw a record number of visitors in the hall this year. The meeting ran 5-9 May in the Baltimore Convention Center.
Many of the visitors were not just browsing, but shopping for optical technology, exhibitors reported.
"We found a lot of qualified leads," said Sam Wyman of StingRay Optics. "Being in the D.C. and Baltimore area with so many military labs and government agencies is great -- they can visit us here on a day trip."
"This is the big opportunity of the year to see lots of customers in one spot," said Patrick Gray of Qioptiq.
Their comments evoked those of PhotoMachining CEO Ron Schaeffer, who in a recent column in Industrial Laser Solutions magazine called SPIE DSS "arguably the defense industry's most important scientific conference and exhibition on optics, IR imaging, lasers, and sensing for defense, security, industry, healthcare, and the environment."
Baltimore City Councilman William (Bill) Cole helped open the exhibition, emphasizing the city's and the region's involvement with the optics and photonics industry.
"A primary goal for SPIE DSS is to provide an effective, cost-efficient environment in which government scientists, engineers, and project managers can meet face-to-face with colleagues in industry and academia," said SPIE Senior Director Andrew Brown. "We are very pleased to see that the event has been successful once again in enabling those connections. And the expanded emphasis on sensing technologies has clearly helped technology transfer into commercial application."
He noted that U.S. Army and Air Force memos before the event specifying permission for staff to attend SPIE DSS acknowledge the meeting's value in helping to advance mission-critical research and development.
In the conference rooms, Infrared Technology and Applications, celebrating its 40th anniversary this year, drew particularly large audiences, as did Image Sensing Technologies, one of 5 new conferences launched this year.
A sampling from among the more than 2,180 technical presentations illustrated the range of topics, from basic research to commercial applications:
*Jeongsik Shin, University of Texas in Arlington, outlined early results on research into electrohydrodynamic ink-jet printing in sensor fabrication for flexible robotic skins.
*Charles Harb, University of New South Wales, described work on cavity-enhanced spectroscopy in a novel twist on traditional detection methods to provide rapid measurement and feedback in hostile chemical environments.
*Ludger Overmeyer, head of the Institute of Transport and Automation Technology at Leibniz University Hannover, told why he sees this as the century in which objects will start to "feel," and why light, with its uniquely wide range of optimal signal parameters for sensing, will be the main medium to achieve this.
*Moon Kim, U.S. Agricultural Research Service, spoke on hyperspectral fluorescence imaging coupled with multivariate image analysis techniques for contaminant screening of agricultural products throughout growing, harvesting, packaging, and preparation processes - key steps in ensuring food safety.
*Daniel Malamud, New York University, described progress towards the development of noninvasive saliva-based tests for early diagnosis and treatment of HIV, tuberculosis, and malaria.
*Anupama Kaul, National Science Foundation, described possibilities of a new focus in 2D graphene-based systems utilizing oxides, sulfides, and nitrides for applications in electrical engineering as well as research.
Looking ahead, conference chairs have plans to expand the SPIE DSS technical program with more on next-generation and deep-water robotics, fiber-optic sensors, and consumer-related sensors for water quality, handheld lab instruments, and homecare for the aging population.
A program of industry-focused activities included a well-attended panel discussion on the Future of Sensing, with executives from five industry suppliers discussing a wide range of sensing applications, from security, military, and law enforcement to fossil-fuel exploration and extraction and food safety.
Banquet speaker David Honey, Director of Science and Technology Acquisition, Technology and Facilities, Office of the Director of National Intelligence, was presented with the DSS Lifetime Achievement Award. In his talk, Honey stressed the value of STEM education (science, technology, engineering, and mathematics), and the importance of reaching out to students by the middle-school years.
SPIE DSS conference proceedings papers are being published individually in the SPIE Digital Librar y as soon as approved, and also be published in print and digital volumes.
About SPIE
SPIE is the international society for optics and photonics, a not-for-profit organization founded in 1955 to advance light-based technologies. The Society serves nearly 256,000 constituents from approximately 155 countries, offering conferences, continuing education, books, journals, and a digital library in support of interdisciplinary information exchange, professional networking, and patent precedent. SPIE provided more than $3.2 million in support of education and outreach programs in 2013.
Featured Product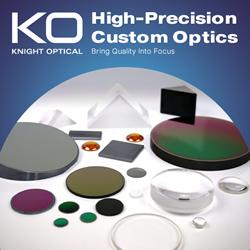 Knight Optical (KO) has provided discerning engineers, designers, and the like from the automation sector with dependable, premium-quality optics for over three decades. Throughout this time, the leading supplier has helped refine the precision of some of the world's most innovative technologies and partnered with a wide range of companies throughout the industry. In this article, Automation talks to KO about its involvement in the sector and, ultimately, finds out more about how the optical brand can help your supply chain process.