- Applied Robotics for Installations and Base Operations (ARIBO) will be

highlighted at the SmartAmerica Challenge Summit, June 11, at the Walter E.
Washington Convention Center.
- The summit is a culmination of a challenge aimed at uniting more than 100
organizations who dared to demonstrate the potential benefits of
cyber-physical systems (CPS) technology, programs and test beds to improve
safety, sustainability, efficiency, mobility and overall quality of life.
- Team ARIBO is a model of public-private partnership and cross-sector
collaboration. ARIBO partners include: The U.S. Army Tank Automotive
Research, Development and Engineering Center (TARDEC), Stanford University,
Induct Technologies, Unicor (through Induct), University of Texas Arlington
Research Institute (UTARI), West Point, Fort Bragg & Womack Army Medical
Center, and Comet Consulting.
Media are invited to attend the SmartAmerica Challenge Summit. Registration
is required. Go to:
http://smartamerica.org/teams/autonomous-robotics-for-installation-and-base-
operations-aribo/.
Contact Lori Grein at: lori.a.grein.civ@mail.mil or call 586-215-9907 for
interview opportunities with ARIBO partners.
Featured Product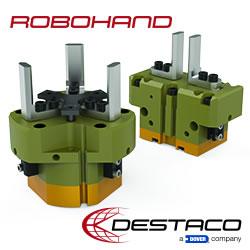 Automatically change end effector tooling quickly and easily with Destaco's Automatic Tool Changers. Designed with exceptional repeatability, high rigidity and load capacity, they are perfect for multiple tooling applications utilizing one robot. We offer different models and sizes to handle light-duty to heavy-duty applications. Our RQC/RTP Series provides a high level of flexibility with a configurable, modular design that accommodates up to four optional modular interfaces.