Clearpath's leadership expands to prepare for growing team and product offering
(Kitchener, ON, Canada - May 20, 2014) Clearpath Robotics is excited to announce our newest team member, Anthony Tod, as VP of Engineering. This leadership role will oversee our hardware and software groups and support Clearpath's continued rapid expansion of our team and product offerings.

"The growing scale of customer orders and inquiries that Clearpath addresses daily requires rapid expansion of our team and a continued focus on product quality," said Ryan Gariepy, Co-Founder and Chief Technology Officer at Clearpath Robotics. "Anthony brings 20+ years of experience in both hardware and software leadership, which makes him ideally suited to help Clearpath become the most capable robotics company on the planet."
Prior to joining Clearpath Robotics, Anthony served as Vice President of Networking Technologies at BlackBerry, and most recently, Principal Designer of the BlackBerry Wireless Group. Anthony's R&D experience has proven his ability in navigate business challenges and guide technical teams through strategic resolution. Along with his leadership experience, Anthony brings extensive skills in system analysis, design for performance and reliability, real-time systems development, and software architecture. His belief that department processes must empower, not constrain, align with Clearpath's technology-centric culture.
About Clearpath Robotics
Clearpath Robotics, a global leader in unmanned vehicle robotics for research and development, is dedicated to automating the world's dullest, dirtiest, and deadliest jobs. The Company serves robotics leaders in over 30 countries worldwide in academic, mining, military, agricultural and industrial markets. Recognizing the value of future innovation, the Company proudly supports programs that facilitate growth within the academic disciplines of science, technology, engineering and math (STEM). Clearpath Robotics provides robust solutions that are engineered for performance and designed for the customer - we are your unmanned experts. Visit Clearpath Robotics at www.clearpathrobotics.com, follow us on Twitter @clearpathrobots or like us on Facebook.
Featured Product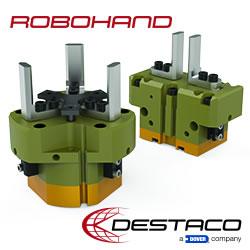 Destaco's Robohand RDH/RTH Series 2 and 3 jaw parallel grippers have a shielded design that deflects chips and other particulate for a more reliable, repeatable operation in part gripping applications ranging from the small and lightweight, to the large and heavy. RDH Series of Rugged, Multi-Purpose Parallel Grippers for Heavy Parts - Designed for high particulate application environments, automotive engine block, gantry systems, and ideal for heavy part gripping The series includes eight sizes for small lightweight to large/heavy part gripping. RTH Series of Powerful, Multi-Purpose Parallel Grippers for Heavy Parts - Designed for large round shaped parts, automotive engine block and gantry systems, and heavy part gripping. They're available in eight sizes for small lightweight to large and heavy part gripping.