Shirai to offer Grabit's electroadhesion grippers for inspection systems and PCB loading applications
SANTA CLARA, Calif. and KYOTO, Japan, May 20, 2014 -- Shirai Electronics, a leading supplier of inspection and handling systems for the printed wiring board (PWB) manufacturing industry, and Grabit Inc., an industrial automation and material handling solutions company, are announcing the launch of electroadhesion-based (EA) grippers for bare and flexible printed circuit board handling. Shirai will be demonstrating the new grippers in booth East 4 4G-18 at the JPCA Show, June 4 - 6, in Tokyo, Japan.

"Grabit is delighted to partner with Shirai to take our gripper product technology to the printed circuit board handling industry," said Charlie Duncheon, CEO and cofounder of Grabit Inc. "Our innovative gripper technology and Shirai's industry expertise offer increased productivity and expanded capability to PCB manufacturers."
Grabit's patented electroadhesion technology enables completely new solutions in robotic parts handling, parts fixturing, warehouse logistics and conveying systems. Electroadhesion is a highly-flexible, ultra-low energy technology that enables the secure handling and release of parts that are difficult to manage using current technology. Electroadhesion eliminates the need for bulky, energy-intensive conventional vacuum grippers, or expensive part specific fixtures.
"By using Grabit's real-time, configurable grip and release profiles, Shirai's EA grippers can improve PCB loading reliability and productivity by ensuring the grasp of only a single component, and eliminates unnecessary delays during system changeovers," said Michinori Matsuura, Director of Business Development at Shirai Electronics. "In addition, Shirai's EA grippers provide PWB manufacturers expanded capabilities by offering a single configuration to handle a variety of rigid PCBs and delicate, next-generation flexible printed circuits."
About Grabit, Inc.
Grabit Inc., a SRI International spin-off company, is poised to revolutionize the multi-billion dollar material handling market with its patented electroadhesion technology. Electroadhesion is an electrically controllable adhesion technology that requires ultra-low power consumption. The technology was developed and patented within the SRI Robotics Program. Grabit manufactures material handling solutions for textiles, printed circuit boards (PCBs), parcel shipping and warehouse logistics. Grabit's products include grippers, fixtures, and smart conveyors. These products enable new applications and deliver customer-validated direct and dramatic benefits to the bottom line with unprecedented flexibility, performance and low operating costs. For more information visit www.grabitinc.com
About Shirai Electronics Industrial Co. Ltd.
Shirai Electronics (JASDAQ), established in 1970, is a leading global supplier of printed wiring board (PWB) with production facilities in Japan and China. In addition, Shirai provides innovative solutions in PWB inspection systems. Shirai's VISPER AVI (Automated Visual Inspection) systems allow PWB manufacturers to maintain the highest level of reliability and quality. Shirai is launching electroadhesion grippers (EAG) to increase the productivity and expand the capabilities of printed circuit board (PCB) loading systems. To learn more about Shirai Electronics and the VISPER AVI, visit: http://www.shiraidenshi.co.jp/homepage/en/index.html
Featured Product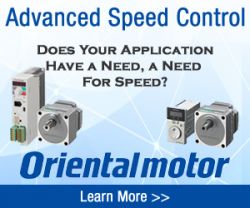 The BLE2 Series replaces our popular BLE Series and continues our brushless motor advantages by featuring an all new compact, high-power and high-efficiency brushless DC motor combined with a Driver that can be digitally set and controlled via external DC voltage or by the front panel. The BLE2 Series can easily compete with larger 3-phase inverter driven motors in many more applications, with built-in simple holding torque function, saving space and increasing performance thanks to the advantages of a brushless motor design. The BLE2 Series has a maximum speed of 4000 r/min, achieving a speed ratio of 1:50 (80 to 4000 r/min). The new motor structure is small than previous models and enables high power and high efficiency while incorporating easy setting, installation and wiring. The new motor connector offers IP66 degree of protection and allows for easy and direct connection between motor and driver with two available orientation of cable outlet direction. Standardized use of stain