The Rockwell Automation PartnerNetwork program has expanded, adding 11 new partner companies who have demonstrated a commitment to helping customers maximize their automation investment.
The Rockwell Automation global PartnerNetwork program is comprised of a collaborative team of leading suppliers, system integrators, and machine and equipment builders who work collaboratively to help solve manufacturing and automation challenges by simplifying the supply chain, advancing innovations in project design, and improving collaboration among suppliers.

New PartnerNetwork companies include members from the Encompass Partner program, OEM Partner program and Solution Partner program.
Four companies in the Americas, Asia Pacific and EMEA regions recently joined the PartnerNetwork program as Encompass Product partners. Three Encompass Product partners also recently expanded their membership into new geographic regions. Members of the Encompass program help manufacturers more effectively respond to shifting demand and industry changes by providing critical components or connectivity solutions that complement, enhance and extend Rockwell Automation solutions. Encompass Product partners also help simplify the product-selection process by making it easier for customers to find the technologies best-suited to solve their unique application challenges.
The OEM Partner program has expanded with the addition of five North American machine- and equipment-builder companies. OEM Partner program members demonstrate a commitment to offering high-quality, innovative machinery and equipment that uses Rockwell Automation solutions. By delivering flexible and efficient equipment, these PartnerNetwork members help manufacturers increase business agility, optimize productivity and achieve sustainability objectives.
The Solution Partner program welcomed three new member companies. Solution Partner members are proven, trusted and established companies that offer demonstrated knowledge and experience in design, implementation, project management and maintenance of industrial control systems. Additionally, Polytron Inc., a Solution Partner company, was named North America's first designated Rockwell Automation Machinery Safety Solutions partner. This new Machinery Safety designation is reserved for an elite group of systems integrators that pass a thorough assessment of their safety application expertise, experience and capabilities, and shows a commitment to maintaining excellence in machinery safety applications over the long term.
http://www.rockwellautomation.com/
Featured Product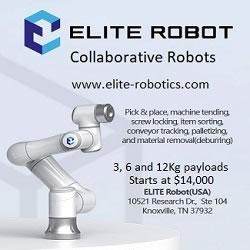 ELITE ROBOT lightweight 6-axis collaborative robots have payloads of (3kg, 6kg, and 12kg cobots). ELITE ROBOT cobots have gained a positive reputation among users in the Automotive, Electronics, Packaging Logistics, Metal Processing, Rubber & Plastics, chemicals, and other industries. The EC series robots start at $14,000 USD making it one of the fastest ROI in the industry. The EC robots come complete with 6 DOF arm, control box, teach pendant and software.