Ekso Bionics Holdings, Inc., a robotic exoskeleton company, announced today that three new studies were presented over the weekend by respected researchers from Bergmannstrost Center in Germany, The Miami Project to Cure Paralysis, University of Miami (UM) Miller School of Medicine, and Mt Sinai Hospital in New York.
The Company believes these studies are indicative of the growing level of interest in exoskeletons as an effective tool for over ground ambulation and gait training.

In a first study conducted by the Miami Project, three of three subjects with chronic complete SCI (AISA), reported a reduction in pain severity over the study period. Jochen Kressler, Ph.D., Lead Investigator for the Miami Project studies said: "In the initial 3-subject case series on people with complete spinal cord injuries, our senior investigators undertook a survey approach of several body systems and complications to examine where the bionic exoskeletons might benefit health and function. Study participants were able to walk in the device - upright and weight bearing - at slow but comfortable speeds for up to 1 hour without undue fatigue. Improvements were seen for pain severity and markers associated with cardiometabolic disease. These are now being pursued in follow-up investigations."
Dr. Mark Nash, Principal Investigator for the Miami Project and Professor of Neurological Surgery and Rehabilitation Medicine at the UM Miller School of Medicine added, "We are encouraged by our early study findings and experiences, and are now seeking ways in which to expand benefits of bionic ambulation for both human performance and prevention of secondary medical complications accompanying SCI."
In a study at Bergmann Center study measuring quality of life, patients reported their pain was reduced from walking in an Ekso Bionics™ exoskeleton. The Company believes pain reduction is a particularly meaningful benefit when one considers a possible correlating reduction of medication and side effects. The Bergmannstrost Center also reported a reduction in spasticity and an overall improvement in quality of life. All 13 subjects stated that the ability to stand and walk over ground again had a definite positive effect in mental wellbeing. As the study described, "To be able to approach someone at eye level and literally be able 'to look someone in the eye' again was often described as incredible."
Research institutes including Kessler Foundation, Rehabilitation Institute of Chicago and Santa Clara Valley Medical Center Research Center have previously reported positive preliminary clinical results. These new studies add to a growing body of evidence showing the benefits of rehabilitation with exoskeletons with no adverse effects reported. These additional studies are important for Ekso Bionics because not only do they validate some of the previously hypothesized benefits, they allow them to make more direct claims to the benefits of being upright and walking in an Ekso GT™ suit. Additionally, the Bergmannstrost and Mt Sinai study protocols had both paraplegia and incomplete tetraplegia patients using Ekso Bionics' exoskeleton. Ekso GT is currently the only device where this variety of assist is possible and the Company believes this feature is a significant differentiator for use in rehabilitation centers and clinics.
Ekso Bionics designs, develops, and commercializes exoskeletons, or wearable robots, which have a variety of applications in the medical, military, industrial, and consumer markets. Exoskeletons are ready-to-wear, battery-powered robots that are strapped over the user's clothing, enabling individuals to achieve mobility, strength, and endurance not otherwise possible. Ekso Bionics' lead product, EksoTM, is a wearable bionic suit that enables individuals with any amount of lower extremity weakness to stand up and walk over ground. Ekso is forging a new frontier in rehabilitation for people living with the consequences of stroke, spinal cord injury and other neurological conditions affecting gait.
http://www.eksobionics.com/
Featured Product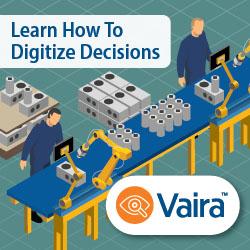 Pleora's AI Gateway simplifies the deployment of advanced machine learning capabilities to improve the reliability and lower the cost of visual quality inspection.