"These first flights represent the culmination of tremendous collaboration between Ascent Solar, Bye AEROSAPACE, and Silent Falcon UAS."
THORNTON, Colo.--Ascent Solar Technologies, Inc. (NASDAQ:ASTI), a manufacturer and developer of state-of-the-art, flexible thin-film photovoltaic (PV) modules, along with Silent Falcon UAS Technologies (SFUAS), announced the successful first flights of the production Silent Falcon™ Unmanned Aircraft Systems (UAS) powered by Ascent Solar's ultra-lightweight, flexible photovoltaic modules. Silent Falcon™ UAS, jointly developed by SFUAS, Bye AEROSPACE and Ascent Solar, is a tactical drone designed to be easily deployed, and integrates proprietary, disruptive technology to deliver superior UAS performance.

The patent-pending Silent Falcon is a solar/electric powered, all composite and modular small Unmanned Aircraft System (sUAS) equipped with an interchangeable wing configuration designed for commercial, public safety and defense applications both domestically and internationally. The combination of efficient aerodynamic design, lightweight composite construction and Ascent's monolithically integrated and ultra-lightweight thin film photovoltaic modules, enables the 25 lb. Silent Falcon™ UAS a remarkable 6 to 12 hour flight endurance.
"These first flights represent the culmination of tremendous collaboration between Ascent Solar, Bye AEROSAPACE, and Silent Falcon UAS," stated Dr. Joseph Armstrong, Chief Technology Officer of Ascent Solar. "Overcoming technological challenges, our teams have demonstrated the ability to integrate our flexible photovoltaics with appropriate power management systems into a feature-rich small unmanned aircraft system enabling extended mission flight time and, as a result, enhanced mission flexibility. More importantly, the photovoltaic modules integrated into the wings represent a lightweight version of our production materials, and as such, are immediately available."
"The Silent Falcon's unprecedented performance and value is ready for the market place as we transitioned from prototype and commenced low rate initial production," said John Brown, President of SFUAS. "Our sales teams are targeting domestic, Latin America and the Asia Pacific region."
About Ascent Solar Technologies:
Ascent Solar Technologies, Inc. is a developer of thin-film photovoltaic modules using flexible substrate materials that can transform the way solar power generation integrates into everyday life. Ascent Solar modules, which were named one of TIME Magazine's 50 best inventions for 2011, can be directly incorporated into standard building materials, commercial transportation, automotive solutions, space applications, consumer electronics for portable power and durable off-grid solutions. More information can be found at www.ascentsolar.com.
About Silent Falcon UAS™ Technologies
Silent Falcon UAS™ Technologies was established in 2010 to introduce disruptive technological UAV innovation to global defense, intelligence and national security agencies, the domestic public safety agency market and U.S.-based private security contractors. The company is headquartered in Albuquerque, New Mexico. For more information, go to www.SilentFalconUAS.com.
About Bye AEROSPACE
Bye Aerospace, founded in 2007 and headquartered near Denver, is applying clean energy solutions to innovative aircraft designs for the aerospace and defense markets. For more information, go to www.ByeAerospace.com.
Featured Product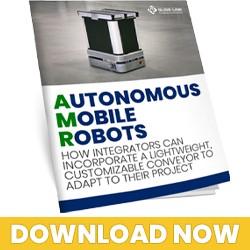 This eBook covers Glide-Line's conveyor attachments built specifically for AMRs. We go through the many variables that integrators are looking for in a cost-efficient AMR conveyor design, like: - lightweight, yet powerful - high flexibility & configurable -durability & dependability - DC-driven. At Glide-Line we solve problems that other conveyor manufacturers won't: simplicity - easy to maintain,flexible configurability, creating an efficient, hassle-free customer experience - customizations are normal to meet your needs.