With focus on information technology, largest-ever Pentagon event showcases more than 100 projects pushing for game-changing improvements to national security
Information technology (IT) is a key enabler for the Defense Department (DoD) and has been a focus area for DARPA since its founding in 1958. DARPA's contributions to modern IT are well-known-perhaps most notably, DARPA is generally credited with developing and prototyping the technology for what is now known as the Internet. But while the DoD currently enjoys IT superiority, that superiority cannot be taken for granted.

Today at the Pentagon, DARPA's Information Innovation Office (I2O) hosted DARPA Demo Day 2014 to highlight DARPA's ongoing contributions to preserving and expanding IT superiority. The all-day event showcased the wide array of DARPA projects designed to change-not incrementally, but quickly and profoundly-how the nation addresses growing national security challenges posed by the Information Revolution and by the increasing global availability of sophisticated information technologies.
In more than 100 demonstrations viewed by DoD officials, defense contractors and invited public-sector innovators, DARPA program managers and project principals described their progress toward making game-changing advances in areas such as cybersecurity, networked warfighter systems, language translation and decision support. The event took up the entire Pentagon Center Courtyard, making it the largest single event ever to take place at the Pentagon.
Taken together, the displays pointed to a future in which networks would be increasingly resilient to natural and human-launched threats and in which lightning-fast detection of emergent, information-related irregularities-including potential threats-would inform equally fast correctives and countermeasures. Advanced data analysis, automation and fusion technologies would enable the timely extraction of actionable, previously inaccessible insights from mountains of raw information, and enable the sharing of those insights through cutting-edge collaboration, data visualization and user interface technologies.
"The Information Revolution has been a huge boon to society, but our growing dependence on information networks also means that information is today's tactical and strategic high ground, increasingly targeted by adversaries from everyday criminals to networked terrorists who would do our nation mortal harm," said I2O Director Dan Kaufman. "I2O's mission is to ensure the safety and reliability of essential information technologies, against the challenges we face today and also against those we can imagine well into the future. We help make the tools of the Information Revolution more powerful and useful, not just for those who ensure our security but also for the people and nation they protect."
The event highlighted 29 programs in four categories: Cyber (approaches to maintaining the safety and security of IT systems); Big Data (tools to facilitate the use of information at scale); Language (including translation technologies to help warfighters communicate more effectively in foreign-language environments); and Warfighter Apps (other initiatives of great interest to DoD, such as the Revolutionizing Prosthetics program in the agency's new Biological Technologies Office).
Among the I2O programs on display were:
*DARPA Cyber Grand Challenge (CGC): CGC, to be launched this summer, will be the first-ever tournament for testing fully automatic network defense systems. The competition's goal is to vastly improve the speed, scale and effectiveness of IT security against escalating cyber threats.
*High-Assurance Cyber Military Systems (HACMS): HACMS seeks to protect networked, embedded IT systems from cyberattack by creating semi-automated systems that build software according to formal methods and check that the created code is secure and works as intended.
*Big Mechanism: Big Mechanism aims to leapfrog state-of-the-art big-data analytics by developing automated technologies to help explain the causes and effects that drive complicated systems. The program plans to focus its initial efforts on research relating to cancer pathways.
*Memex: Memex seeks to develop the next generation of search technologies and revolutionize the discovery, organization and presentation of public-domain search results. Initially, DARPA intends to develop Memex to address a key DoD mission: fighting human trafficking.
*Broad Operational Language Translation (BOLT): BOLT seeks to create new techniques for automated translation and linguistic analysis that can be applied to informal text and speech common in online and in-person communication.
A full list of DARPA Demo Day 2014 programs with summaries is available here.
Associated images posted on www.darpa.mil and video posted at www.youtube.com/darpatv may be reused according to the terms of the DARPA User Agreement, available here: http://go.usa.gov/nYr.
Featured Product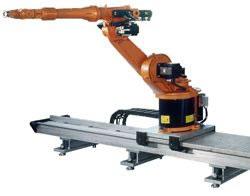 IPR Robotics offers a wide range of servo-driven 7th axis linear rails for industrial robots. These rails come in ten different sizes and are constructed from modular high strength extruded aluminum sections to handle payloads of 100 kg to 1600 kg or from steel to handle 2000 kg payloads. This variety of rail sizes allows each application to be sized correctly, controlling the space required and the price point. The drive train design of these rails utilizes helical gear-racks and is proven over 10 years to be repeatable and reliable, even in tough foundry applications.