Midwest Engineering Systems is now a UL Listed Panel Shop; certified to build custom Industrial Control Panels for factories in the United States and Canada.
Midwest Engineering Systems Inc., an innovative provider of premier custom machines and integrated systems is now a UL Listed Panel Shop; certified to build custom Industrial Control Panels for factories in the United States and Canada.

This certification allows Midwest Engineering Systems to custom build industrial control panels and display the UL Mark on the panels. Regulatory authority in every jurisdiction in the United States and Canada recognizes the UL Mark.
UL's industrial control panel certification demonstrates that all custom-built control panels fabricated by Midwest Engineering Systems meet regulated standards for safety and efficiency.
• Meets all standardized requirements
• Widely accepted
• Greater efficiency
• Regulated component sourcing
• Team member training & consulting
"This is a highly credible and sought after certification for industrial control panel builders." states Dean Stefanac, Vice President of Midwest Engineering Systems "We are proud to be listed as one of UL's Panel Shops. This certification gives us the ability to show our customers that the flexible control systems build for their automation equipment will meet all regulation and safety standards."
For more company information and news visit: http://www.mwes.com/blog
Midwest Engineering Systems Inc. has been providing high-quality custom machine design and automation solutions since 1991.
About UL
UL is a global independent safety science company with more than a century of expertise innovating safety solutions from the public adoption of electricity to new breakthroughs in sustainability, renewable energy and nanotechnology. Dedicated to promoting safe living and working environments, UL helps safeguard people, products and places in important ways, facilitating trade and providing peace of mind.
Featured Product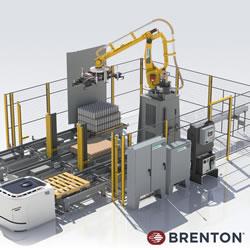 Brenton is a leader in robotic solutions with standard product offerings including palletizing and depalletizing for efficient an option for carrying hard-to-handle products, as well as larger scale systems with an optimized footprint; and case and carton loading solutions for numerous industries. In addition, Brenton works with customers on integrated solutions, offering robotics in a broad spectrum of robotics to fully integrate end of line systems. Brenton helps packaging customers protect their reputation and grow the trust of their consumers.