Seegrid, makers of automated guided vehicles (AGVs), is sponsoring an upcoming Robotics Solutions webcast for Warehouses and Fulfillment Centers on Tuesday, June 3 at 2:00 pm EST. Mitchell Weiss, Chief Operating Officer for Seegrid, will also serve as one of the panelists.
The webcast will address flexible and reliable robotic picking, handling, depalletizing, and palletizing solutions for wholesale, food service, and retail store replenishment and maximize order fulfillment efficiency. The webinar will also cover the labor cost savings through increased reliability, line speed, workplace safety, and order accuracy. This webcast presents an overview of robots and automation: together with monitoring, controlling, and supporting robot solutions for peak performance.

Weiss has extensive experience as a Senior Executive at High Technology robotics and automation companies. He has been involved in significant installed base of automation systems in semiconductor manufacturing, electronics manufacturing, automotive, and warehousing and distribution. Weiss is accomplished in product design and development. Additionally, Weiss holds twenty patents.
Dan Kara, Chief Research Officer, Myria RAS, addresses questions during this exclusive live webcast. He will offer an industry-wide look at how robots with advanced vision systems and robotic arm technologies are driving change in the entire goods-to-man process flow, which are leading to the inevitable reality of the "lights out warehouse."
To register for the webinar, go to: http://bit.ly/1panYUC.
About Seegrid
Seegrid Corporation provides simple, affordable, flexible vision-guided automated guided vehicles (AGVs) to the material handling industry. Seegrid robotic industrial trucks, flexible AGVs, are revolutionizing the movement of materials in manufacturing and distribution environments. Seegrid automated pallet trucks, tow tractors, and walkie stackers optimize workflow processes by increasing productivity and reducing costs, creating economic and operational advantages. Seegrid vision-guided AGVs deliver a rapid return on investment, improve facility safety, and reduce equipment and product damage. In addition to the 2014 Edison Award, Seegrid was also recently named Manufacturer of the Year, and awarded the Gold Medal Award at the WBT Innovation Marketplace 2013 competitive event. Seegrid was named to the Food Logistics Top 100 software and technology providers. Based in Pittsburgh, PA, the company is quickly expanding its global presence, and will be seen at CeMAT at Hall 27, Booth H12. CeMAT 2014 runs from May 19 to May 23, 2014, in Hannover, Germany. Follow Seegrid Corporation on Twitter at @Seegrid.
http://www.seegrid.com
Featured Product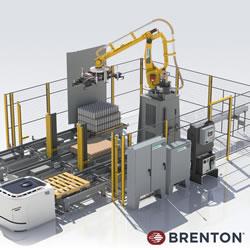 Brenton is a leader in robotic solutions with standard product offerings including palletizing and depalletizing for efficient an option for carrying hard-to-handle products, as well as larger scale systems with an optimized footprint; and case and carton loading solutions for numerous industries. In addition, Brenton works with customers on integrated solutions, offering robotics in a broad spectrum of robotics to fully integrate end of line systems. Brenton helps packaging customers protect their reputation and grow the trust of their consumers.