MXM, VPX, XMC and Multi-Display Graphics Cards to Be Displayed
Taipei, Taiwan - Aetina, industrial graphics card and GPU solution provider, will be exhibiting a vast array of industrial and embedded VGA and GPU solutions, as well as presenting its latest MXM products along with rugged design and value-added services at Computex 2014 in booth number M0311a , Nangang Exhibition Hall.

Wide Variety of AMD/NVIDIA GPU Solutions
Aetina will showcase an expansive lineup of its four primary product categories, namely general purpose PCI Express card, embedded MXM module, multidisplay graphics card and rugged GPGPU VPX/ XMC board, all powered by top-notch AMD and NVIDIA graphics processing units (GPU), and compatible for comprehensive industrial & embedded systems.
Superior Multidisplay Versatility
Aetina is going to debut the newM3AE886-JN-AC, an industry-standard MXM module build with AMD Radeon™ E8860 Embedded GPU, providing high multi-display flexibility and supporting up to six displays simultaneously. An embedded system at the booth will live demo four displays to show its multi-display capability.
Designed for Ruggedness, Customized for Satisfaction
Low power consumption, high performance, compact form factors, superior service life, rugged components, and multi-monitor support are just some of the various features of Aetina cards that make them suitable for defense, transportation, medical imaging, and general industrial embedded applications. Now Aetina brings industrial grade wide-temperature operating range and conformal coating services to its embedded MXM module series, further differentiating Aetina in the commercial marketplace.
For more information about Aetina products, visit:
www.aetina.com.tw
About Aetina
Founded in January 2012 by a team with over 10 years experience in display application technology and industrial computer technology industry, Aetina provides industrial/embedded NVIDIA, AMD and S3 GPU (graphics processing unit) solutions for Industrial Automation, Digital Signage, Defense and Aerospace and Medical, Security and Measurement, Transportation applications. With a vast product line in a variety of form factors, including: PCI , PCI-E x1 , PCI-E x16 , MXM , CompactPCI , XMC, VPX, Aetina prides itself in it commitment to provide customizable and reliable products with specialized support.
Featured Product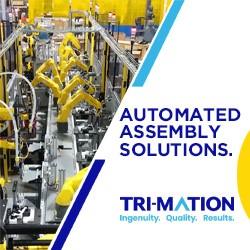 Tri-Mation reduces labor costs, improves accuracy, and production speed. Our integrators specialize in building automated assembly manufacturing systems for part production in any required volume or level of complexity.