Acquisition expands global presence of Molex industrial connector business
LISLE, Ill.--Molex European Holdings BV, a subsidiary of Molex Incorporated, today announced that it has recently acquired the heavy-duty connector business of Westec s.r.l., an industrial connector manufacturer based in Milano, Italy. Westec's business consists of the manufacturing of more than 6,000 products, including a wide range of junction boxes, multi-pole connectors, and connector assemblies designed for automation, robotics and other harsh-duty industrial applications.

According to Tim Ruff, Molex senior vice president of business development and corporate strategy, the acquisition expands the Molex industrial connector offering to customers worldwide. The Westec portfolio aligns well with Molex robust Brad® Power and MicroChange® M12 Interconnect Solutions designed to simplify machine builder design, installation and maintenance processes.
"Westec has earned a strong reputation for engineering innovation. Their team of experienced professionals brings to Molex outstanding technical expertise in the automation and commercial sectors along with competitive lead times to more efficiently serve industrial customers," adds Ruff.
Terms of the agreement have not been disclosed.
About Molex Incorporated
Providing more than connectors, Molex delivers complete interconnect solutions for a number of markets including: data communications, telecommunications, consumer electronics, industrial, automotive, commercial vehicle, aerospace and defense, medical and lighting. Established in 1938, the company operates 45 manufacturing locations in 17 countries. The Molex website is www.molex.com. Follow us at www.twitter.com/molexconnectors, watch our videos at www.youtube.com/molexconnectors, connect with us at www.facebook.com/molexconnectors and read our blog at www.connector.com
Featured Product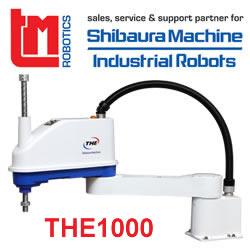 Designed for assembly and inspection applications in the electronics equipment and automobile components industries, the THE600 SCARA is a powerful automation tool. Advancing from the specifications of the existing THE400 SCARA, the THE600 has been developed to meet growing demand for fast-cycle automation. The THE600 model includes improvements in synchronised control and tracking precision. The THE600 is compact in design and offers improved high speed, with 60 per cent higher payload capacity than competing SCARA models in the same price range, making it the price-to-performance leader. Affordable price, impressive performance.