Fyusion develops technologies that empower people to capture the world in a more immersive way than photos or videos allow.
SAN FRANCISCO, May 28, 2014 -- Fyusion, a stealth startup developing advanced 3D Image Processing technologies, today announced it raised $3.35 million USD in funding led by UTEC and New Enterprise Associates (NEA), with participation from angel investors including James Joaquin (Venture Investor and former CEO of Ofoto & Xoom) and Lior Susan (head of Lab IX), as well as early Google investors.

Fyusion develops technologies that empower people to capture the world in a more immersive way than photos or videos allow. True understanding the surrounding world requires the ability to move within it. So, just as videos capture the flow of time, Fyusion's patent-pending visual graph structures, coined "Spatial Photographs," capture the space through which a camera moves. Using cutting-edge 3D processing algorithms, Spatial Photos empower viewers to freely interact with the scene while reliving the experience of the original composer.
Fyusion recently launched its mobile photo app Fyuse, currently available the iOS App Store. Built on top of Fyusion's underlying 3D platform, Fyuse allows users to create and share immersive Spatial Photographs, for personal use or on social networks. With the Series A capital the company will continue to add features and capabilities to Fyuse to raise the bar of computer vision on mobile. This is just the first step in a long line of potential applications for the company's underlying technology. Fyusion is also licensing its patent-pending technologies and its 3D modeling platform to key players in the mobile and wearable devices sectors.
The company was founded in 2013 by Dr. Radu B. Rusu, a world renowned 3D and robotics scientist who previously led the 3D Perception efforts at Willow Garage. There, he created the Point Cloud Library (PCL) initiative, currently the world's largest open source effort in 3D point cloud processing. He also serves as a Board Director and President of Open Perception, the world's leading non-profit organization in 3D perception, which is also responsible for maintaining the BSD-licensed PCL project.
"We are very excited to bring our Robotics and 3D Computer Vision expertise to a consumer application," says Rusu, the CEO of Fyusion. "It's time we take a step forward and begin a new chapter in the way we record and consume visual data, increasing interactivity and immersion. This requires 3D representations. For the longest time our community thought of 3D as a collection of points and triangles, and made great progress in that direction. However, the current status quo in consumer 3D does not focus enough on photorealism. We'd like to challenge that."
"Our interactions with the world are not confined to 2D squares or even panoramic snapshots," said Greg Papadopoulos, Venture Partner at NEA. "We move, we explore, we immerse ourselves in our surroundings and gather data through active participation in our environment. Not only do Fyusion's Spatial Photos improve user experience; they also capture essential information that other media formats overlook. Just as spatial navigation provides viewers with a rich sense of being present, it also allows algorithms to extract useful attributes-shape, scale, context-that flat images cannot convey. These attributes help to simplify classically difficult problems such as visual search and indexing. We are beyond excited to be working with Fyusion's team of top-tier experts to develop future applications of this technology."
Along with Radu B. Rusu, the core founding team includes Stefan J.J. Holzer (CTO), and Stephen D. Miller (VP Engineering). The three have been working together for many years through Willow Garage, a robotics incubator and think tank in Menlo Park, CA, privately funded by Scott Hassan (founder of eGroups and the key software architect/developer at Google, Alexa Internet and the Stanford Digital Library), where the team made significant progress on algorithms and software that would allow personal robots to interact with and help people. When they weren't making robots fetch beer, fold laundry, or tie sutures, they focused on bringing their expertise to open source projects. Their work has received numerous best paper awards and nominations at prestigious scientific conferences and has been featured on the New York Times, CBS Smart Planet, Discovery Science Channel, and many others. Team members have received many accolades throughout their careers, including the IEEE 2013 Early Career Award, the Open Source Software Challenge World Award 2011, and distinguished fellowships such as the Hertz Foundation Graduate Fellowship and National Science Foundation Graduate Research Fellowship.
About Fyusion:
Fyusion's interests lie in positively impacting the world through intelligent robotic technologies. Its core team consists of world experts with PhDs in Robotics, 3D/Computer Vision, and Machine Learning, who bring together decades of cumulative experience in their fields. The team has been at the forefront of academic research and has a long track record in open source software development in 3D Computer Vision and Robotics. Their software contributions are heavily used around the globe in both academia and industry, and have become de facto standards in Computer Vision, particularly for tasks like Object Recognition and 3D Modeling.
Featured Product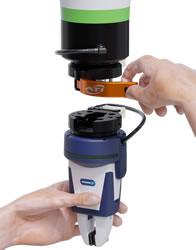 Simpler, stronger, and more precise. ATI Industrial Automation has developed a series of Manual Tool Changers that provides a cost-effective solution for quickly changing tools by hand. They feature a unique design that combines high strength, excellent repeatability, and a patent-pending screw-cam locking mechanism with multiple fail-safe features, which resists vibration and prevents loosening. These robust and compact Manual Tool Changers can handle payloads up to 80 pounds (36 kg) and pass pneumatics and electrical signals.