Expanding Embedded Storage Lineup and Launching Enterprise Storage Line
Taipei, Taiwan - Innodisk, a service-driven storage provider for industrial and enterprise, will be launching new embedded flash products with smaller form factors and higher speeds, as well as debuting its high IOPS FlexiArray™ all-flash storage appliance. As Innodisk grows and expands its branches around the world, these new products along with its existing industrial portfolio allow Innodisk to better serve system designers and be a total flash solution provider. Innodisk invites all its customers and business partners to visit its booth M0311a in the Computer & Systems area at Nangang Exhibition Hall.

FlexiArray™ All-Flash Storage Appliance
The all-new FlexiArray storage array will be displayed by Innodisk for the first time in Taiwan with a live demo. Powered by Innodisk FlexiRemap™ technology, FlexiArray uses global wear-leveling and flash collaboration through the IO stack to deliver sustained high IOPS in a 1U rack mount form factor. High speed connections are ensured through 10GbE or InfiniBand connectivity. With its experience in firmware development and wear leveling technology, Innodisk has been able to create high performance and cost effective and all-flash storage appliance.
Extremely Small Form Factors
Innodisk is embracing the new M.2 (NGFF) form factor with flash storage modules in both compact 42mm and high capacity 80mm sizes featuring industrial storage compliance and iCell Power protection. Innodisk's ultra-compact nanoSSD will be on display as well as its brand new SuperDOM, combining nanoSSD with SATADOM technology to create an ultra-low profile SSD for standard SATA connectors.
Peripheral Modules
Innodisk will display its lineup of Embedded Peripherals, designed to relieve space limitations while enhancing embedded system functionality. An embedded system at the booth will have Innodisk's embedded peripheral modules installed for signal conversion and storage expansion. The system will feature mini GbE LAN card, PCIe expansion card with 4 mPCIe connection and DDR III module with 1TB M.2 SSD.
DRAM Coating
Besides flash storage, Innodisk will display its industrial DRAM coatings which protect memory modules with specialized conformal coatings. Coated DRAM can be protected against moisture, dust, chemical contaminants and other environmental hazards. These coatings can be applied on Innodisks' full line of embedded, server, wide-temperature range, and specialized DRAM modules.
Customization Service
Custom products will be displayed to showcase Innodisk's customization capability. An in-house production facility and firmware/software development team means Innodisk is able to tailor products to unique needs of its customers. Unique form factors using custom PCBs, specialized soldering for enhanced reliability, are just some of the hardware capabilities made possible by an in-house plant. Custom firmware is also available allowing for features such as data security, secure-erase, customized LBA, and more.
Aetina Industrial/Embedded Graphics Cards
Innodisk's subsidiary Aetina will also be on hand presenting its line of industrial graphics cards, powered by NVIDIA and AMD processors. Low power consumption, high performance, compact form factors (MXM module), superior service life, rugged components, and multi-monitor support are just some of the various features of Aetina cards that make them suitable for defense, transportation, medical imaging, and general industrial video applications. For more information visit www.aetina.com.tw
About Innodisk
Founded in Taiwan in 2005, and with a US-based support and engineering team, Innodisk Corporation has become the industry-leading manufacturer and solution provider of flash storage devices and DRAM modules for industrial applications and embedded systems, with a focus on the enterprise, industrial, aerospace, and defense industries. With its long experience and an unrivaled knowledge of the memory industry, Innodisk has developed a series of products with excellent quality, remarkable performance, great cost-efficiency, and the highest reliability. For more information about Innodisk, please visit http://www.innodisk.com.
Featured Product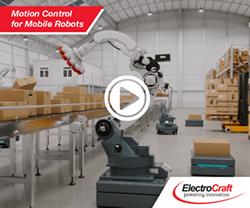 ElectroCraft is showcasing its award-winning mobile robot technology including their powerful and compact wheel drives, high-torque-density brushless DC motors, precision linear actuators as well as servo motor drive technology at a variety of conferences and tradeshows including the Boston Robotics Summit. Robotics Summit is the premier symposium for the sharing of ideas, technology, and market developments for robotic technologies across industries. Beyond a showcase and pitch of product, ElectroCraft is eager to participate in the collaborative discussion of challenges and opportunities that will shape the near and long-term robotic marketplace.