Anaheim Automation's stepper and brushless DC drivers and controllers are designed and manufactured in-house, something they have prided themselves in since the company's inception. Anaheim Automation has continued to place a heavy focus on R&D in order to spur growth, and has plans for near future expansion with the release of new drivers, controls, and more.
Anaheim, CA May 24, 2014

Anaheim Automation's business model entails presenting themselves as the "one-stop shop," in which they provide all the products their customers need surrounding motion control. However, while they may offer a wide product breadth, their primary emphasis since the beginning has been their line of stepper and brushless drivers and controllers.
Anaheim Automation prides themselves in not only the manufacturing of these drivers and controllers in-house, but also the design. Each driver is completely designed, tested, manufactured, and stocked locally in Anaheim, CA, USA. Anaheim Automation's emphasis on R&D has resulted in a myriad of advancements in their products over the years, a particular product line being their motors with integrated drivers and controllers.
Anaheim Automation's line of integrated motors offer the customer a stepper (http://anaheimautomation.com/products/stepper/stepper-integrated-list.php?cID=50) or brushless DC motor (http://anaheimautomation.com/products/brushless/brushless-integrated.php?tID=97&pt=t&cID=48) with the necessary controller and/or driver integrated into the unit, providing a compact solution for their customers, while also alleviating the time and money involved in ensuring motor and driver compatibility. Furthermore Anaheim Automation will add encoders, brakes, and other custom options to the unit if the customer's application requires it. These integrated solutions set Anaheim Automation apart from competitors, particularly in the realm of innovation. Anaheim Automation is continuing to place more emphasis on R&D to introduce new drivers and controllers to compliment their existing product line. An expansion of their integrated product line is also in the works, and is due to be released very soon.
About Anaheim Automation:
Anaheim Automation, Inc. is a manufacturer and distributor of motion control products with over 45 years of experience. Combining enthusiasm, dedication, and innovation, Anaheim Automation strives to supply thousands of customers worldwide with the quality components they require to make their application succeed. Anaheim Automation surpasses competitors with their Stepper product offering, providing one of the largest in the industry. Vast lines of Brushless and Brush DC, Servo and AC motors, controllers and drivers are also offered at competitive prices. High-precision Gearboxes, Tables, Linear Guides, and more provide increased performance and efficiency. For more information about Anaheim Automation and their products, call 714-992-6990 or visit http://www.anaheimautomation.com.
Featured Product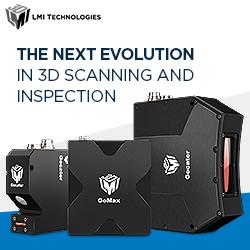 Every robot needs eyes to see, think, and do. Gocator® 3D smart sensors add powerful vision-guidance and inspection capability to industrial robots. You can use these sensors in a wide variety of factory automation applications. Pair them with scara, delta, and collaborative robots to create complete robotic solutions that deliver high-performance 3D results in vision-guidance, quality control inspection, and automated assembly with smart pick-and-place. Make your robot FactorySmart® with Gocator 3D smart sensors.