Automate 2015 to be Held in Chicago, March 23-26, 2015
(Ann Arbor, Michigan, USA - June 5, 2014) The Automate Show has been named one of the top 10 manufacturing shows in the U.S. according to Superior Business Solutions (link to website article), who compiled the list after researching over 150 different manufacturing related shows on the Trade Show News Network. Automate 2015, North America's leading automation event, will be held March 23-26, 2015 at McCormick Place in Chicago.

"We're excited to see the recognition Automate has received by being placed on this top ten list," said Jeff Burnstein, President of the Association for Advancing Automation (A3), primary sponsor of the Automate 2015 Show and Conference. "We see the enthusiasm through our new and returning exhibitors, who have already secured 125% of floor space ten months out from the show compared to our 2013 show."
Among the 129 companies that are already committed to exhibiting covering over 48,000 square feet of space, 25 have never exhibited at Automate before. Thirty-three companies that have exhibited previously are expanding their space in order to display more of their technologies. A special pavilion at the front of the show is devoted to system integrators who will present a broad range of applications in areas such as material handling, assembly, welding, inspection, and material removal. This space is filling up quickly and will sell out in the coming weeks.
"We continue to add space, including a research pavilion for universities to exhibit their latest technologies," added Burnstein. "This space is free of charge for applicable colleges and universities, so we encourage those involved in advanced research in robotics, vision or motion control to sign up today."
For more information and details about Automate 2015, please visit www.automateshow.com. You can also contact Kathleen Straight at kstraight@a3automate.org or 734-994-6088. Automate 2015 will be collocated with ProMat 2015, North America's leading warehousing and distribution show, sponsored by MHI.
About the Organizer
Automate is organized by the Association for Advancing Automation, the global advocate for the benefits of automating. A3 promotes automation technologies and ideas that transform the way business is done. A3 is the umbrella group for Robotic Industries Association (RIA), AIA - Advancing Vision + Imaging, and Motion Control Association (MCA). RIA, AIA, and MCA combined represent 750 automation manufacturers, component suppliers, system integrators, end users, research groups and consulting firms from throughout the world that drive automation forward.
For more information, please visit our websites: A3; RIA; AIA; MCA. Automate Show and Conference information can be found at www.automateshow.com. To reach Association Headquarters, call 734-994-6088.
Featured Product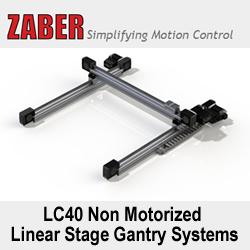 A Zaber gantry kit comes with everything you need to build a customized XY gantry system or XYZ gantry system. These gantry systems feature coordinated multi-axis motion, plug-and-play operation, easy integration with end-effector options, and built-in IO and E-Stop capabilities. An intuitive ASCII interface allows the user to easily communicate with the gantry systems using our free software, either Zaber Motion Library with APIs for several popular languages or Zaber Console. Third party terminal programs that can communicate over a serial port can also be used.